Blockchain is cutting-edge technology changing the rules of the game in the IT realm. Interest in it has grown with the popularity of cryptocurrencies. But today, its potential is being considered across industries and niches. Blockchain is actively employed in banking, finance, logistics, retail, healthcare, and IoT.
In this article, we will take a look at blockchain app development prices. But first, let's figure out what blockchain applications are and how they can benefit your business.
What is a Blockchain Application?
​​Blockchain technology is a continuous chain of blocks with data that cannot be deleted or corrected; they can only be added. Copies of block chains are stored on numerous computers at once. This makes them decentralized. As a result, if one or more nodes fail, no data is lost. Essentially, a blockchain is a database that is nearly impossible to change or hack.
Blockchain development can help automate many labor-intensive processes. Thanks to this technology, digital transactions in business processes become faster and more accessible.
Examples of using blockchain apps:
Confirmation of the authenticity of goods;
Tracking the supply chain of products;
User identification;
Accountability;
Ensuring transparent and secure transactions.
According to our blockchain development experts, blockchain brings the maximum benefit to companies with a large number of customers and partners, whose actions need to be constantly monitored. At the same time, there are no restrictions on the scope of the blockchain.
Examples of successful use of blockchain technology in applications:
Burst IQ - an application for the secure transfer of sensitive medical data between doctors and patients.
Propy - a marketplace for buying and selling real estate that provides instant issuance of property rights.
Globix Cash - an app for cryptocurrency staking and storing developed by OwLab. Our team has created a comprehensive solution for easy and convenient storing, exchanging, sending, and investing of cryptocurrencies.
Candy - an NFT marketplace where celebrity fans and collectors can buy, sell or exchange digital collectibles related to sports stars, famous musicians, and more.
Advantages Of Blockchain App Development
Blockchain application development requires significant investment, but brings many advantages to the table.
High security
Blockchain is almost synonymous with security. The technology provides security due to the fundamental principles on which it is based:
Advanced cryptographic encryption;
Decentralization;
Transaction integrity.
It is not surprising that the US and other countries are interested in this cutting-edge technology at the government level. For example, in Illinois, blockchain technology is already being used to secure government documents. Some states use the Voatz blockchain application to vote online from anywhere in the world.
Transparent platform
Blockchain apps are based on open-source code. Each transaction is recorded publicly, which means that anyone can check the correct operation of the system at any time. This significantly increases the level of trust between the participants in the system.
Easy data access
Users of cloud blockchain applications can access their accounts at any time and from anywhere in the world. This is actively used by banks and insurance companies.
High-speed service
The transfer of data in the blockchain system is near instantaneous. This has become a key factor in the popularity of blockchain technology in the finance realm.
Reduces operational costs
With fast transaction processing and system transparency, blockchain solutions can reduce redundancy and optimize business processes. The terms of data processing are significantly reduced when using blockchain technologies.
Fraud prevention
Fraud in blockchain applications is almost impossible. Due to the peculiarities of the technology, it is impossible to perform unauthorized actions without the knowledge of the participants.
Factors Affecting The Blockchain Application Development Cost
As with the development of any mobile application, certain factors shape the total blockchain cost. Let's take a look.
Field of application
Depending on the niche, the complexity of the product and the requirements for it vary. For example, creating a crypto wallet will cost less than developing a digital land registry for the public sector.
Estimated prices for creating blockchain applications for different areas:
Healthcare: $55,000-$1,00,000 or more;
Media: $45,000-$1,00,000 or more;
Finance: $50,000-$1,00,000 or more;
On-Demand Economy: $40,000-$80,000 or more;
Public Sector: $70,000-$80,000 or more.
Complexity of blockchain app development
Blockchain applications come in different levels of complexity. It depends on your goals. In the experience of our team, the use of user-oriented features in the architecture of the application often provides a simplified user experience in the future. This can cost more as it takes more time and effort to develop a blockchain application. But in the future, it will bring more benefits.
Prices for development, depending on the level of app complexity:
Low Complexity (example: payment application based on cryptocurrencies) $15,000-$35,000 or more
Medium Complexity (example: DApp based on Ethereum, EOS, etc.) $30,000 to $90,000
High Complexity (example: building a blockchain platform from scratch) $100,000 or more
Kind of app
There are two main types of blockchain applications: based on a private network or based on a public network. In the first case, all permissions are centralized for one organization, and this will cost you more in terms of development. In the second case, you can create an application where everyone can participate in decision-making. Here the price depends on two factors.
If you choose an already existing public solution, it will be inexpensive in most cases. If you need to create a new platform where you can implement new features, the development will cost you more.
Third-party tools used
Examples of tools you may need:
Twilio, Amazon SNS, etc. - for notification systems ($10-$50);
Instabug or Bugsee - for bug tracking ($10-$100 per month);
Mixpanel - for data analytics (about $150).
You also need to consider hosting costs, ranging from $100 to $1,000.
People involved in a project
Blockchain application development requires blockchain developers, front-end developers, and UI designers. Hiring freelance employees is cheaper than turning to an outsourcing company:
freelance developer - $2,000-$25,000;
developer company - $50,000-$300,000.
But in the end, outsourcing is still more profitable. You do not have to spend time and money on hiring specialists, and managing hosting solutions or third-party tools. Plus, you don't have to worry about coordinating all the freelancers to work as a team. The outsourcing company takes care of all these concerns.
Blockchain app development process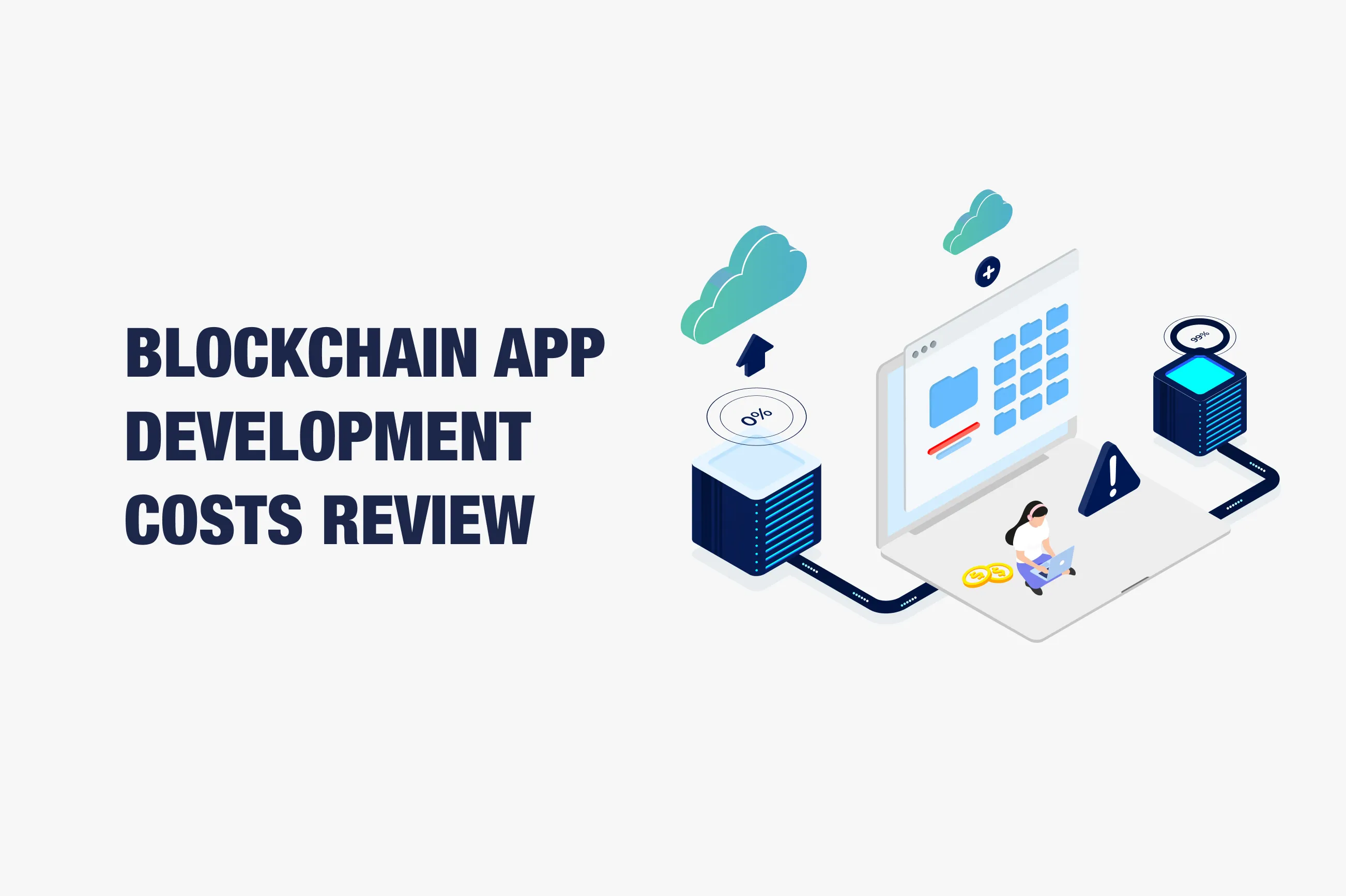 The process of developing a blockchain application includes several stages.
Application creation stages:
Design. UI and UX designers give the application a structure and a comfortable user interface. It will cost 20-80 dollars per hour.
Development. For development services, you need to pay 30-200 dollars per hour.
Deployment. Depending on which P2P network you choose, the cost may vary. Creating your own P2P network will be much more expensive than using, for example, Ethereum, which is open-source.
Maintenance. Maintaining new updates and regularly testing the smooth operation of the app. This will account for about 30% of the total cost of the software.
Project management methodology
Typically, when developing applications, an agile management method is preferred. Meetings are held regularly to keep track of the current workflow. The team can use task managers such as Trello, Jira, Zoho, Asana, etc. Their cost is also taken into account when calculating the costs of blockchain software.
Continuous integration
To ensure that code works seamlessly with everyone else's code, blockchain developers should review code in a shared code repository. There are tools to automate this process. Make sure to include the cost of using these services in the overall cost of the project.
Maintenance
The cost of maintaining a blockchain application usually makes up around 30% of the total project cost.
Blockchain Development Cost Based On App Types
There are five relevant types of blockchain projects. Let's see the app development cost breakdown by type.
NFT marketplaces
NFT marketplaces enable users to buy and sell digital assets (music, GIFs, videos) online. At the same time, blockchain technology guarantees that the buyer becomes the sole owner of the digital asset.
Price: $50,000-$130,000.
DApps
Distributed Applications, or DApps, are blockchain applications for decentralized organizations. Often used in the gaming realm. Most platforms for building DApps are open-source. So developing distributed applications costs less than developing a platform from scratch.
Price: $45,000-$60,000.
DAO
DAO (Decentralized Autonomous Organization) is an autonomous system in the blockchain, which is managed using only code, without human intervention. It can be used in banking, transport logistics, public administration, etc.
Price: $35,000-$200,000.
Cryptocurrency wallet app
Crypto wallet apps are secure digital wallets for storing, receiving, and sending cryptocurrencies.
Price: $50,000-$100,000.
Cryptocurrency exchange app
Crypto exchange apps allow you to convert cryptocurrency and trade it. They are extremely popular in the market nowadays.
Price: $50,000-$100,000.
Final Words
Blockchain is the technology of the future, and the speed of its development is impressive. According to our blockchain development experts, the technology will be implemented in a huge number of applications in the coming years.
So go invest in blockchain and enjoy the benefits of the latest technology! OwLab developers are ready to create an individual blockchain solution for your business needs.
We do not just create applications — we analyze your business ambitions and fully immerse ourselves in each project. Check out some examples of blockchain solutions we have built.