Modern business highly depends on the success of its healthcare app. It should have a superb and fast service that is convenient for both workers and clients.
Owlab can create health applications that will develop your business and bring your services to another level. Our professional developers team creates healthcare app ideas and develops them to help doctors, patients, administrators, etc. in the shortest amount of time.
What Are Medical Applications For?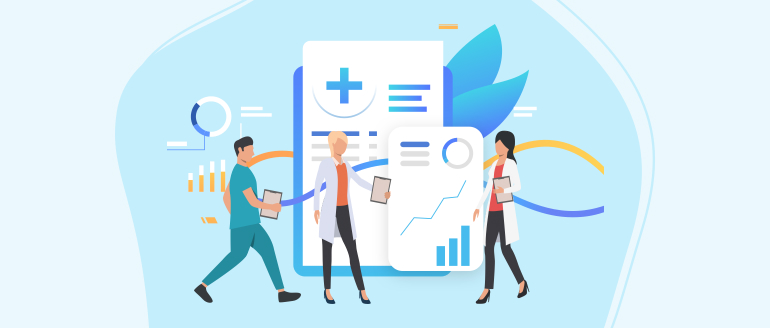 Healthcare mobile app development is very popular these days. This is not weird or strange – there is too much information in most diagnostic and treatment centers. Clients' requests become pickier since everyone tries to get as much information as possible on the medical services.
Every customer pays attention to the level of all consultations, diagnoses, and treatment services. It is crucial to be top-notch in the field to keep working. Too many businesses do the same things as you do but only a few of them pay attention to the actual service. Especially when it comes to medical challenges – your clients need to feel safe. Besides, everyone pays attention to the time and career so no one wants to spend the whole day sitting in the queue. And we all know that all adults use mobile devices where they keep plenty of software to ease life. So why can't a mhealth app do the same? It is convenient, practical, and effective.
An innovative solution will help any doctor and other medical employees to establish closer cooperation with new and existing customers. To track their progress, make sure they have an appointment and know everything necessary about them. When a patient has an application, the loyalty grows and it is more likely that he or she will apply for another consultation or treatment.
A proprietary medical application with all necessary features is an essential attribute of a solid medical organization. When your future client sees your health app ideas in a healthcare app, then you'll get a customer who is thankful for your tender loving care. Today, all innovative and advanced subjects of medical activity pay close attention to IT technologies. At a relatively low cost, the effect of introducing such solutions into practice is impressive. The client base is growing rapidly, new opportunities for targeted advertising are opening up, and the loyalty of casual and regular customers is increasing.
Medical app development should take care of all necessary ideas and features that should be in a solution, like:
Obtaining complete information about the clinic, learn about all the advantages of the offered services.

Getting to know the doctors and understanding their expertise.

Learning about all the unique procedures that other institutions no longer offer.

Checking the price list for the services.

Making an appointment online or contacting a specialist for a free consultation.
The market offers thousands of solutions for healthcare automation and healthcare services, but not all of them "survive" on the market. The reason is simple: some of them were created in isolation from the needs of users. The product should solve a real problem, not an imaginary one. This is the basic condition for healthcare app development.
Healthcare Mobile App Development Services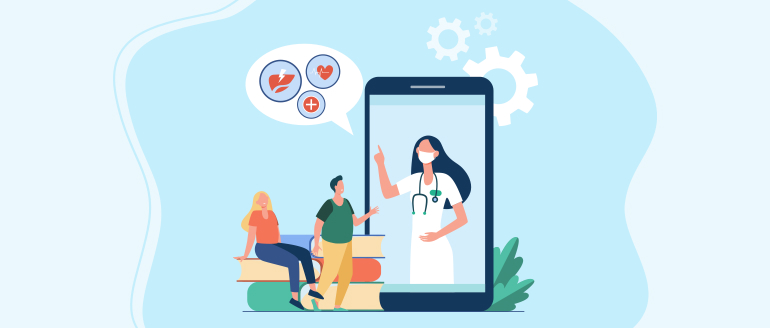 Healthcare app development is a multi-step process carried out by skilled and experienced developers. The entire procedure for creating a software product is carried out in compliance with the regulations that ensure reliability, working speed, and a friendly interface. When providing you with healthcare mobile app development services we constantly ask you questions about your organization to make sure that your client will understand everything.
When creating the basic functionality, we focus on the target audience. And we understand that the same product will look differently for doctors and patients. It is important to keep in mind that there might be more than one task when creating health applications.
We can develop any healthcare app for any purpose. Depending on the target audience, a client gets exactly the functionality that he or she wants to see on the mobile device.
We are engaged in software development for medical organizations of any profile. It can be an outpatient clinic with a therapeutic or surgical focus, a cosmetic or dental clinic, a manual therapy center, and much more. Regardless of the medical company's niche, we will offer the optimal solution that will take new business heights in the healthcare field.
Our developers create health applications for all types of mobile devices. Most people use Android-based devices and fewer people have iOS. But we create the products for both of them since there are no pros and cons to each of them – just personal preference. This allows you to reach most of your target audience.
We use such the next technology stack to achieve the best results:
Python

ReactJS

Django

NestJs

PostgreSQL

WebSockets

iOS (Swift)

Android (Java, Kotlin)
And since all of them are modern and updated, we have the opportunity to cover 99% of users.
Types of Healthcare Apps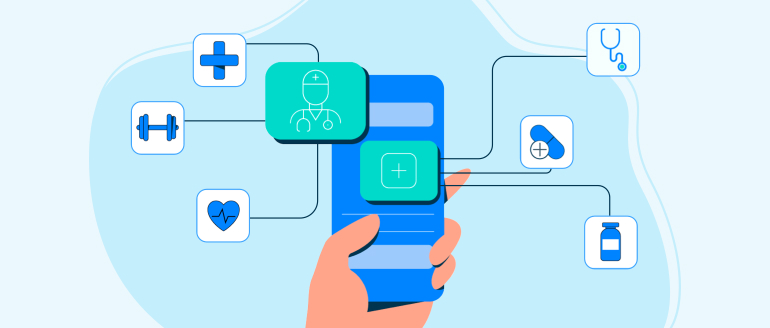 There are two main categories of health applications: general health care and medical use.
Generic medical applications provide medical services to smartphone owners. Depending on their function, they can be divided into ten categories.
Health and Fitness Apps
These products are designed for people who manage their lifestyles. They track steps, calories burned, distance traveled, active minutes, and engage users to live an active, healthy life. As an example we can Runtastics, Nike Run Club, Flo, etc. Runtastic is an Austrian app that was founded in 2009 and soon became one of the world leaders in health and fitness applications thanks to its active online community, where users actively interact and compete with each other. In 2015, Adidas bought Runtastic for $ 240 million.
Apps for Chronic Patients
Patients use these solutions to regularly monitor their vital signs (blood pressure, blood glucose levels) and specific symptoms, and thus less frequent hospital visits. Basically, such applications make life easier for patients with mental illness, diabetics, and hypertensive patients.
Apps to Control Medication Intake
The patient downloads the healthcare app, enters the necessary information about the medication intake (dosage, frequency, timing), and sets reminders.
For example, there is a medical app that is perfectly synchronized with smartwatches that send push notifications to patients when it's time to take medication.
Women's Health Apps
These digital solutions offer a wide range of services, from tracking a woman's menstrual cycle to accessing oral contraceptive prescriptions. There are health applications for pregnant, breastfeeding, and other products aimed at maintaining women's health.
Applications for Storing Personal Health Information and Documents
These health applications are designed to store personal medical information and documents on mobile devices, retrieve the necessary information on demand, and connect patients with their doctors.
Health Insurance Apps
These apps are designed for clients and insurance managers to communicate faster. Companies can sell more insurance services using these apps and make the service more user-friendly, thereby attracting more customers.
Reference Apps
Medical mobile guides keep doctors up to date with the latest trends in the healthcare industry.
For example, the Epocrates app was developed by three Stanford Business School students in 1998 and acquired by Athena Health in 2013 for $ 293 million. The application is famous for its extensive database of medicines and various useful functions.
Health Education Apps
Following the principle of continuing medical education, such apps are intended for those medical professionals who wish to improve in their knowledge and obtain an advanced degree, but are limited in time.
Patient Health Monitoring Apps
These health applications offer providers the best ways to monitor patient's health and improve communication with them. Doctors can remotely monitor heart rate, oxygen levels, and blood pressure.
Communication and Consulting Applications
Communication and consulting apps are ideal for doctors who want to communicate and exchange experiences.
Doximity, launched in 2011, is a social network for American clinicians with thousands of doctors and their assistants, nurse practitioners, and pharmacists registered. Using the app, doctors can consult with any other specialist, exchange medical information, discuss patient treatment, and find the right doctor to refer a patient through an easy-to-use text messaging system.
Such solutions can significantly improve the quality of medical services and improve patient outcomes.
All you need to do is to create a successful mhealth app. Regardless of whether you have raw ideas or ready-made services, experienced developers will pave the way for success.
Check out the mobile app we've developed in our portfolio and contact us if you have any questions left.
Final Thoughts
Taking care of health is one of the basic human needs. Numerous scientific publications and inventions have been devoted to the topic of health and medicine for a long time. The desire to create medicines for serious and widespread diseases led to the flourishing of the medical industry in the 20th century.
In the 21st century, people use technology for medical purposes and to improve human health, in particular, web services and mobile apps for storing data from medical sensors as well as mobile applications for collecting and processing information of a medical nature.
Today information technologies are all over our life. And it is difficult to imagine life without a computer, the Internet, and smartphones or tablets. As it happens, people use mobile phones more often and they have plenty of applications for every day of the week, including health applications.
Developing a mhealth app is a huge step for your business but it surely will pay off. Your business will be more reliable and more flexible, and your service will be more human-oriented and friendly. Even if you have the best clinic in town, people won't know it if you don't have a healthcare app like your competitors. Don't hesitate to start today. Even if your head is tumbled on everything, just keep calm and ask us every question that is on your mind.