A startup is a relatively new and quite positive phenomenon that allows you to launch your own business without significant initial investments. Many IT whales with the billion turnovers started in garages and worked from computers bought with their parents' money. They are now founders in large corporations. Does it seem realistic? For a great example, read the story of Amazon's founder - Jeff Bezos.
Instagram, Airbnb and Uber - these companies are examples of successful startup launching. Reflecting on their story, can you imagine the magical transformation of Cinderella into a princess? Well, there's hardly any magic here. And while the stories about ambitious students making millions from their ideas are not rare these days, they are far from a fairytale. 99% of their success is full-steam work, total involvement, and an accurately selected team.
There are five stages in which startups can grow from the "aha!" moment to the actual functioning product or service. In our step-by-step guide, we will discuss each phase in detail. Each step of the startup's lifecycle includes a unique set of challenges that can either strengthen or destroy a newly created team. Some secret ingredients of any startup on the path from idea to scaling include a strong team, flexible thinking, and a clear vision of both strong and weak sides. It is critical to step outside the tracking map and adapt your strategy as you go. Therefore, understanding the stage you are currently in will help you see the overall picture more accurately.
Startup Development Stages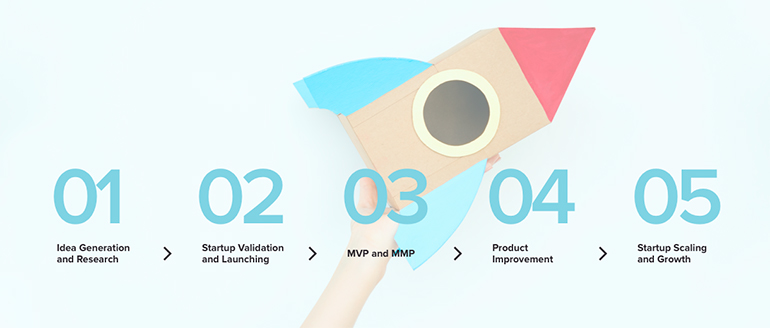 We have already mentioned above that without an experienced team it is almost impossible to launch a successful startup! So, if you have an idea and you have been thinking about how to implement it for a long time, you are on the right side of the Internet.
Owlab specializes in launching startups and works with both small and large projects. Leave the most complex tasks to us and we will show you in practice what a professional approach is! Using only the most up-to-date technologies, we develop solutions that exceed all expectations of our customers. Write to us if you are ready to see how your ideas are realized in the best possible way!

Idea Generation and Research
At the initial stage of a startup, your key assets are an innovative business idea and a firm resolution to implement it. If you can attract users' attention and persuade investors with these initial assets alone, then the juice is worth the squeeze. But let's move step by step.
An idea is of great significance for the startup. While a traditional business can be built upon price dumping, adding a bright marketing wrapper to the standard model, or other traditional ways of clients' attraction, a startup cannot follow the beaten path. It usually creates a new market or takes a vacant niche in the existing one. Take Airbnb, for instance. It offers apartments from private owners instead of competing with Booking.com in the hotel sphere. And Instagram bet on one single functionality (posting photos) and scaled to the size of a full-fledged social network.
Whether your startup was born from a thorough idea screening or as a result of an apple that fell on your head, it has to solve a particular problem for a user. If you want to succeed, forget about the ideal startup development you invented in your mind and concentrate on real customer needs - this is what they will be ready to pay for.
Define a target audience and proceed with running various interviews and tests:
Find out how your potential users are dealing with the problem right now.
Widen the specter of your audience's pain points to gather more data.
Present a prototype to check the demand. It can be a PowerPoint presentation, landing page, or even a crowdfunding campaign.
Record all the data, reactions, and feedback.
The interviews in this stage are aimed at detecting the problem your product will solve and envisioning the project's road map. If you build your work based on potential users' feedback rather than your assumptions, it will be easier to move through the next stages of startup development.
The market has long been filled with various ideas, but constantly needs new ones. There are many niches that require technological solutions. The range of possibilities is huge, from simple web services to spacecraft industry, nanotechnology and medicine. It is important to keep track of startup trends and pay attention to the gaps that need to be filled with your product. Consumer demand has long been formed, your task is to find the most promising way to develop your startup.
Only after you ensure your product is really solving a problem and there's a demand for such a solution, it's time to move to the work specification for the MVP. At this stage, you will begin building your technical team.
Startup Validation and Launching
The successful implementation of your idea largely depends on the team, since you are building a company and not a separate product. It's often better to have a "not bad" idea and an excellent team than vice versa.
If the startup founders are talented developers, the initial stages of the startup will be done by their own resources. But, what if your team doesn't have technical specialists? Then you have two options: you either start recruiting or approach a specialized startup development company. The second option is preferable for startups, and here's why:
You'll get a ready, well-balanced team of high-level professionals. It's almost impossible to hire staff like this from scratch, especially when the budget is limited. Organizing productive work without any previous experience in technical team management is no less complicated: even the finest minds sometimes find it hard to cooperate efficiently.
You pay for the actual time of specialists' work and the result. In the case of your team, you have to pay a monthly salary, even to employees who don't participate in certain stages of the startup development.
You receive a ready project in due time. No need to worry if someone gets sick, leaves, or puts a pause on the project in any other way. The company you choose as your partner takes the risk management of the new product development (NPD) process on itself.
You get access to the technical talent pool. Professionals will recommend more efficient ways for your project, both technical and monetary.
So, you have a team. The next step aims to validate your startup idea with minimum time and funds - i.e., develop an MVP. Note that one company can spend a day to create an MVP while another will need six months. You must evaluate how your MVP should look, which is more effective when you rely on your tech team's experience.
Don't construct a rocket; a cardboard version is enough to get started. To verify whether the product fits the market, an MVP should be aimed at solving one practical problem. Gather feedback, introduce changes, run marketability tests, and continue to improve the prototype until you discover a minimal marketable product (MMP).
MVP and MMP
MVP is not an initial version of your product, but rather its primary form. It lacks many functions, but the set of characteristics it includes helps match it with the audience: the popularity of certain features, things that are required, and problems that appear.
MMP, on the other hand, is the first version of the "real" product: it possesses the minimal set of already verified functions. In other words, MMP is a better version of all existing MVPs. It is competitive, has traction, and can be monetized while you continue working on the project.
It is at this stage that the active phase of marketing begins. After identifying the "headache" of your clients, you should give them "painkillers". A simple layout is enough to create anticipation in potential customers. Owlab accompanies startups at all stages of development, so our list of services also includes marketing.
It is not enough to make a delicious candy, you need to come up with a beautiful wrapper. Whatever great product you have, if no one knows about it, no one will use it. This stage has many pitfalls and is quite complex: from determining the target audience to SEO. Professional market analysis at the first stages of your startup will allow you not to waste your budget, but also to determine the further ways of the startup development. You can learn more about how a marketing strategy for a startup is built here.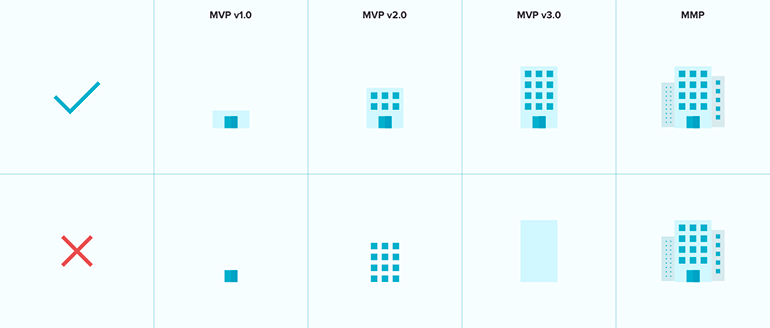 It's the MMP that is scaled and proceeds to commercialization.
Product Improvement
The launch of the startup is now behind you, the project has gained steam, and you already have your first set of customers using your product regularly and maybe even sharing their experience with friends. These are visible indicators of a good market fit. At this moment, you are forming trust - an asset that is gained only through the real interest and satisfaction of your target audience.
At this stage of a startup, the importance of business analytics and customers' feedback cannot be underestimated. You should request comments and track the user journeys even more thoroughly. This will allow gathering vital information for further improvements, as well as form the database of loyal customers, serving as a pillar for your future brand loyalty strategy.
The role of the technical team at this startup stage is critical. The developers gather all the data, analyze it, evaluate the results, and justify the possible changes. This stage is complemented with continuous beta testing.
Startup Scaling and Growth
The growth stage is about your business' scaling, i.e., new markets, additional functions or even products, the best possible user experience, etc. This is a critical point where you may need to expand your team. The way you handle this task will either take your startup to the next level or devalue your previous results.
You can either continue working with the team that began your startup development or form a new one. Any scenario can be successful if you approach it correctly. Cooperation with the trusted partner has its perks: the developers already know your product, its architecture, peculiarities, outer, and inner business processes. This prior knowledge will allow them to quickly proceed with the expansion and deploy their expert wisdom to help you reach excellent results.
If you see the existing team has already exhausted its potential and you require a partner with more specific expertise, more robust infrastructure, or an extended talent pool, choose the option that will allow your business to grow with the least possible risks.
For the scaling process to run smoothly, it's a good idea to create a business plan and include scaling mechanisms from scratch. This way, you'll be well prepared for growth while staying flexible in decision-making.
Owlab has been looking for the best solutions for growing and scaling startups for over 10 years. Like any business, a startup needs in-depth analytics, whether this or that idea will be profitable or whether it is worth looking for other ways of development in order not to suffer losses. This is the difference between a regular startup development company and Owlab. Our company positions itself as your business partner, so your success is our interest.
From Startup to Business
At this startup stage, there's evidence of progress, the team is well-balanced, and the product or service is commercialized. The average time of startup-business transformation is three years. There are no immediate results, even if it looks otherwise from the outside: no one's jumping over development stages right to millions.
While the company is gaining market value, the owners are looking for additional sources of funding. To seal the progress of the tech startup, it's reasonable to start exploring the possible partnerships that can provide an income boost. Airbnb, for example, moved to Amazon Web Services one year after their launch, which helped them cut the operational costs significantly.
No less vital is the question of whether to continue growing or to stop and secure the results. You should evaluate your business' resources and financial stability so, in case of a failed scaling attempt, you can cover the losses and stay afloat.
Many companies choose to hire an experienced CEO at this stage. However, there are also examples of leaders who haven't abandoned their position as a CEO, even after the company became public, like Jeff Bezos.
Regardless of your current stage of startup development, you have everything you need for a successful journey. Keep your customers in the middle of your efforts, choose the right partners, and remember that every company is unique.
Is your startup successful and ready to scale? Excellent! At this stage, Owlab can offer you high-tech custom solutions. Now you need big server capacity, maximum data protection, fast updates and ongoing support. For a business to work like a Swiss watch, you need accuracy and a high level of professionalism from the development team. Now imagine that you have 50+ people who can cover all your needs, from development, product testing and updates, to their 24/7 support. This is the best startup partner you can find.
Our Approach
Owlab accompanies a startup at all stages, helping to find the right development paths in the best way that will allow your idea to scale smoothly. Thanks to flexible methodologies like SCRUM, our company is always ready for the most non-trivial tasks, the same applies to building the entire framework of a startup.
Many aspiring entrepreneurs are not even aware of all the intricacies and complexities that they will have to face. That is why having a reliable business partner like Owlab provides you with a high probability of success. Thanks to competent financial analytics and professional distribution and saving of resources, our company allows entrepreneurs to enter the market and earn money in the shortest possible time.
Startup development is not only a business, but also a science. This is a team effort that requires maximum commitment. If you are ready to bring your ideas to life at their best, Owlab is at your service!