Have you ever experienced a problem when users abandon your application after the first or a short period of use? Well, in this article we will not only talk about the reasons for such user behavior, but also figure out how to avoid it in the future.
Why Are Users Abandoning My App?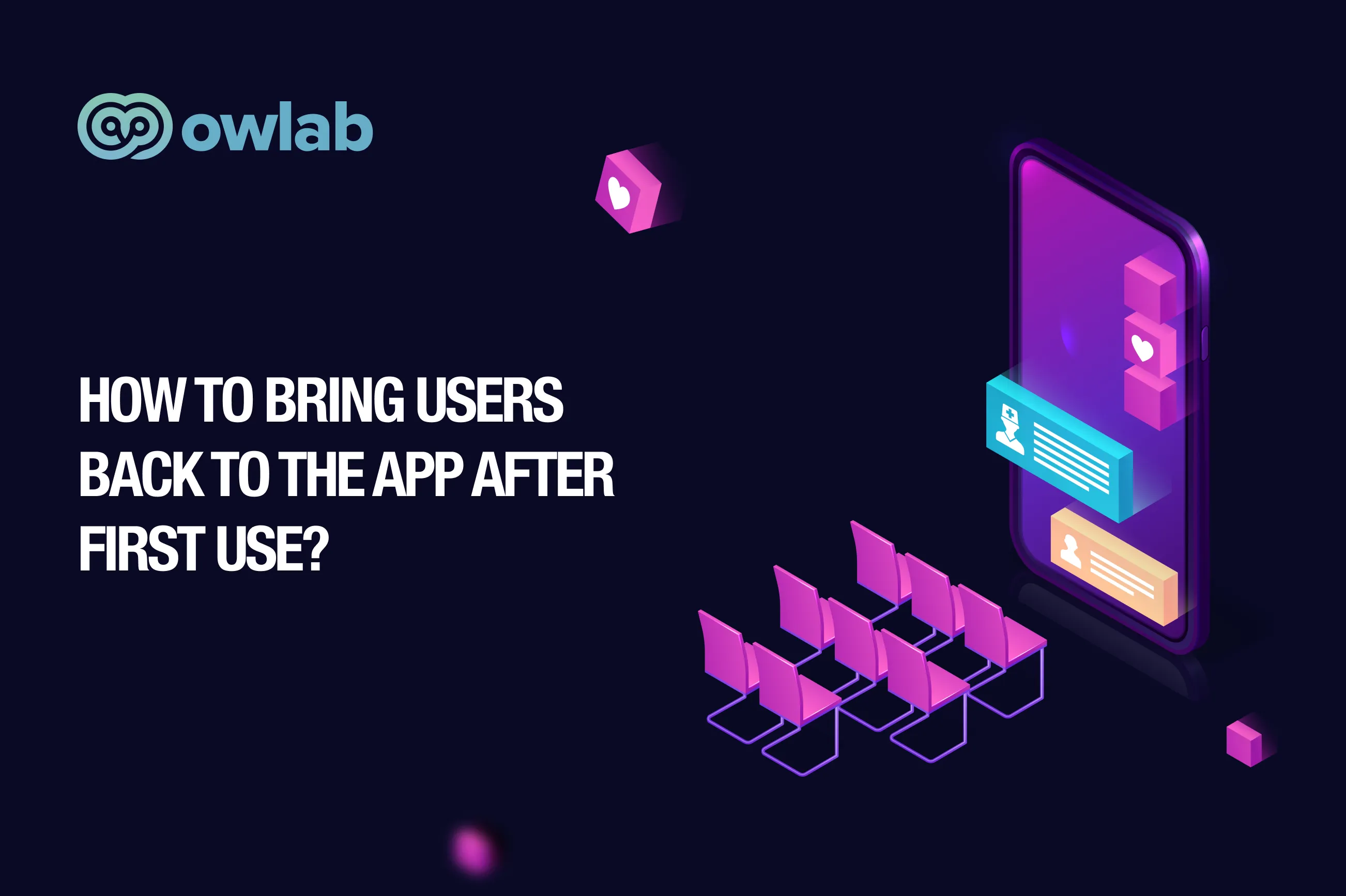 The key reasons why users abandon or do not download your application have long been known to many experienced mobile development companies. We at Owlab sometimes encounter requests to improve someone else's application in order to return users to it, and we have identified several patterns.
Reason #1 - Repulsive design and lack of functionality.
A user-friendly interface, high-quality onboarding, and clear application functionality are the most important criteria for a user. Often users prefer to choose a competitor's application, precisely because it is simply more convenient. To determine if your application has such weaknesses - you can contact us for a free consultation or collect feedback from your users. Often, those who really like your app will be happy to help improve it.
Reason #2 - Annoying Push Notifications.
Users value their personal comfort and their time. If they have just downloaded your app and it is already sending them regular push notifications, this is not the best tactic to get users' attention. Yes, notifications are very useful and they help to remind the application of yourself, but they should be useful. For example, using notifications, you can inform users about discounts or promotions.
Reason #3 - Bugs and technical problems.
More than 80% of users will leave your app if they encounter some bugs, crashes or other performance issues. Your application must be well optimized and perform its functions correctly. If you need to check your application for bugs, malfunctions and other problems - you can contact Owlab for help. We will conduct a full analysis of your application and fix bugs.
How Do You Get a User Back on Your App?
It is important to understand the reasons for user churn in order to deal with it effectively. If the main outflow of users occurs after 30-90 days of use, then push notifications can change the situation. A recent survey by Localytics showed that users have become more positive about notifications (if they are not annoying).
If you're sending direct call-to-action notifications and expecting specific behavioral responses from the user, don't do it more than once a week. However, there is an exception. For example, an application for watching Netflix series can afford to send notifications about the release of new series every time, this will even be useful to the user.
We can conclude that the number of posts depends on your niche and what you offer to the user. But be honest with yourself and your clients. If you're not Netflix, don't go overboard with daily engagement.
The researchers say it's important to consider the location and timing of notifications for users. This is especially true for local businesses such as food deliveries. In the evening, you can offer the user to order dinner at home, and today mailings like "Order 3 pizzas and watch the match full" are relevant. Use geo-targeting for notifications - it helps you connect with people how they want, when they want and based on where they are.
Strategies to Reduce Churn & Improve App Engagement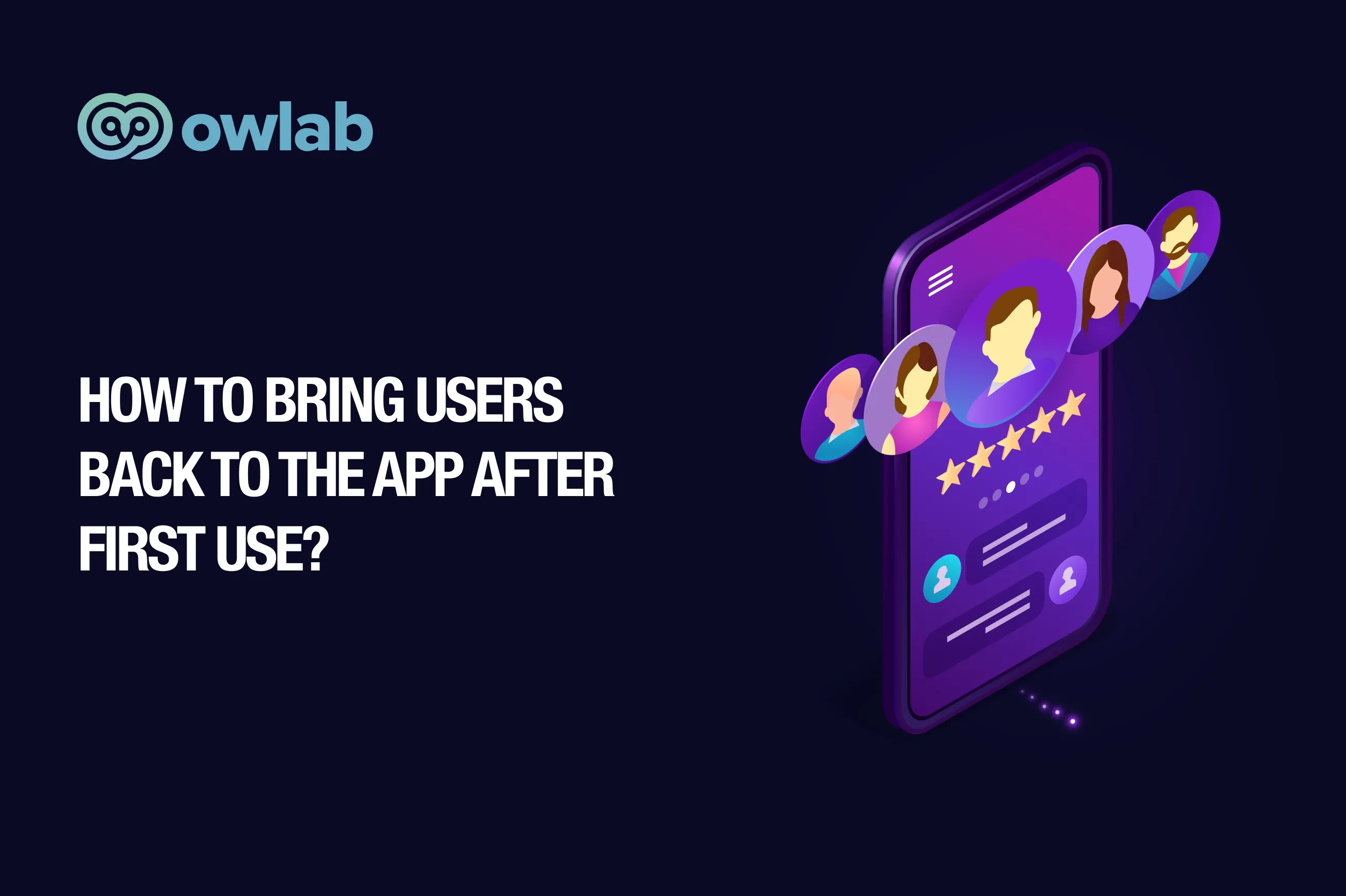 There are some simple but effective strategies to increase user engagement:
Onboarding Improvement and Extension
Survey users to find flaws in your application
Make your application more personalized
Improve user support and service
Use targeted promo campaigns
Let the user know that you are always welcome
This approach will allow you to significantly reduce the churn of users of your application after the first use.
Conclusion
We hope that our tips will help you and you have received an answer to the question "how to bring users back to the app after first use?". Remember, the quality of your product plays a key role in your success. If you need a professional mobile app development company, you can always contact Owlab by filling out the contact form below. We are able to develop an application from scratch, or to revise an existing product, developing a strategy to improve it.