Digitalization and globalization of the international economy triggered innovations in all sectors including fintech. Fintech technologies ease our lives with mobile banking becoming a pervading trend. Thus, 75% of U.S. users checked their accounts via a mobile device at least once, while about 59% of people worldwide are using mobile banking apps. The world is becoming mobile-centric, which fuels a continual expansion of mobile banking apps.
What does it take to create a banking app that would win customers' hearts and bring profits? Skyrocketing demand for mobile banking in Europe can be illustrated by Monzo – an extremely popular "challenger bank", with more than 4 million users. Developing such an app is promising yet challenging, as the process should focus on countering a range of concerns and differentiating in the fiercely competitive landscape.
The article studies Monzo's experience and extracts lessons for fintech companies striving to reap their benefits from creating a stellar banking app.
What is Monzo?
Monzo was conceived in the United Kingdom and is a digital mobile bank with a prepaid debit card. Today, it has become one of the top mobile banking applications in Europe by offering an intelligent and easy user experience. In a nutshell, Monzo provides a new way of banking: an account handled and operated entirely through a mobile app. It is a smart banking solution that works as a conventional current account, just completely digitally.
Its growing popularity in Europe is confirmed by statistics: Monzo occupies second place among UK mobile app users.
Which Benefits does a Custom Banking App Like Monzo Provide?
Provide? Which fruits can an app like Monzo bring to your company? Our experience in bank app development witnesses that a successful application can serve in the following ways.
Increase your clientele.With a mobile-only banking application, you will remove the physical boundaries for reaching a wider target audience. You'll provide a convenient tech solution to both your existing and new clients and empower them to enhance their business activities. By making all operations available through mobile, you and your clients become independent from a location.

Provide insights into your target audience.Knowledge is power. This also relates to the knowledge of your clients. As a banking app development company, we know that properly designed solutions can track a vast array of data about your customers. Whether they are opening a deposit, making a purchase, traveling, or applying for a loan, you can monitor all these activities, analyze them, and drive precious insights. The obtained information will help in developing efficient marketing campaigns, improving customer communication, and shaping strategies based on consumer behaviors.

Reduce costs.Banking mobile app design and implementation are not cheap; however, it will bring savings in the long run. The offline banking services incur numerous costs for supporting branches and managing people working there, running the support service, printing and sending bills, and more. Most of these activities are avoided with full-fledged online banking platforms.

Maximize transparency.Each transaction is conducted instantly, and the balance is updated within seconds. Therefore, customers have prompt access to all relevant information regarding their accounts and activities, which makes online banking open and transparent.

Secure from fraud.When we develop banking apps for our clients, we focus on additional protection measures that would reliably guard the customer's sensitive information against potential hacker attacks. As new risks emerge every day, it takes profound tech knowledge and experience to provide adequate security measures. Highly professional banking software development companies can guarantee superior protection to all your information and activities.

Streamline processes.In traditional banks, the processing is often tedious and time-consuming. Moreover, human errors and delays are probable. With banking apps, many processes are automated and take place online, which increases speed and precision.
Challenges You Can Face When Creating a Monzo-Like Solution
Neobank is a beneficial venture, but just like any other startup, it should be implemented wisely, with the consideration of the potential threats. Here are some of the challenges a venturer can face:
Unique regulatory standard.Neobanks should adhere to the rules and regulations depending on the region.

Safety concerns.A banking app development company must ensure unrivaled security measures to eliminate the opportunity of fraud or data breaches.

High load.According to our experience, banking software often has to handle thousands of requests. Therefore, a solution should be developed to operate perfectly under such a workload.

Suppliers of third parties.Certain activities require reliance on third-party providers. As such partnerships can raise quality and safety concerns, it is vital to cooperate only with trustworthy vendors and build solid relationships.
How to Create Banking App Like Monzo?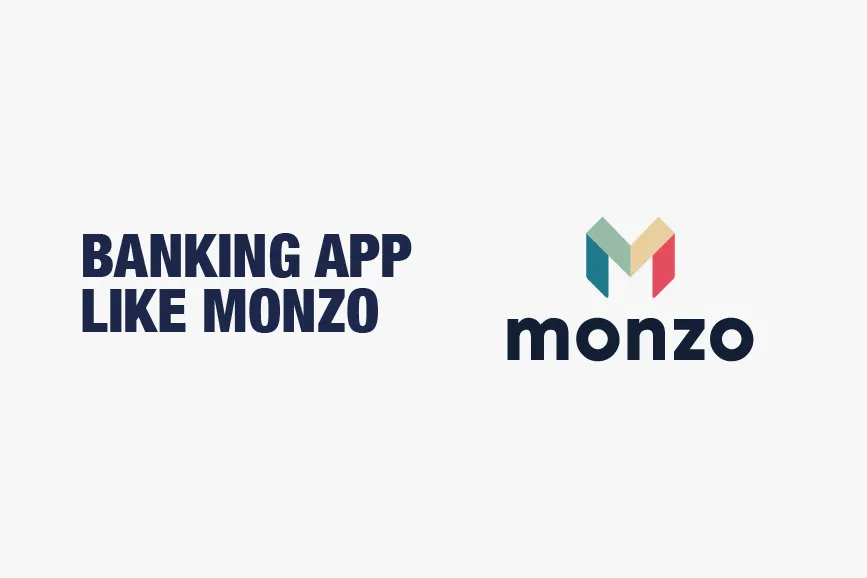 The development process includes several steps that will help you embrace the vital aspects.
Conduct a research
Research is necessary for a proper assessment of the environment and your opportunities. Study your competitors to determine their strengths and weaknesses and determine how you can differentiate. Examine the market to understand trends and technologies and evaluate the demand. Finally, you should meticulously analyze your target audience, identify their pain points, reveal their needs, and find ways to not only satisfy but also anticipate their expectations. Ultimately, you'll be able to establish the right goals for your solution.
Work out a wireframe or prototype
When dealing with an application for bank development, you should ensure that the process is well structured. A sketch or a prototype will help you implement a proper approach by describing the necessary design features, graphics, and materials. To design the required components, such as the start menu, homepage templates, user accounts, and dashboards, you can use wireframing.
The wireframes can be designed in black and white and comprise boxes, lines, and messages. They allow checking the feasibility of your idea and collecting feedback at the early stages. Consequently, the initial wireframe can be transformed into a hi-fi prototype that has a graphic presentation of a product, configuration, interface components, colors, and micro-interactions. A prototype should aim to give an overall impression of how your app functions.
Create a graphic layout
This stage of the bank app development process should be carried out with extreme care since it should be possible to identify the layout of your app by its business card. You can follow several crucial steps:
All the elements of your solution, including typography, symbols, color palette, buttons, and forms, should be in line with your corporate style;
The navigation must demonstrate the logical architecture of your solution;
The design elements and features, such as icons, shapes, connections, and buttons, should be clear and detailed;
All the materials that you use including photos and videos should contribute to shaping the right impression of your product and consider regional diversity if you plan to work internationally.
Determine the features and functionality of your solution
The app's functionality and features are key to its success. The following features provided by Monzo can give you an idea of what is in demand:
Easy money transfer to other Monzo accounts;
Convenient bill splitting – if you share payment with your friends;
Earlier payments compared to traditional banks when it comes to receiving payments into Monzo;
Salary sorting – split your payments into separate accounts.
An ability to pay on AppelPay with Monzo;
Spending control – through setting budgets for spending;
Free cash withdrawal;
The availability of loans;
A saving pot;
The history of purchases.
Identify the right tech stack for your banking mobile app design
The technology stack is vital since it determines how flawlessly your product will perform. You should primarily focus on the following areas:
Front-end;
Backend;
Cross-platform;
Other requirements such as reliability and security.
According to our experience, however, the tech stack is just one constituent of your success. Another one is a sensational development team. Make sure you have the right professionals on board or hire a prominent vendor.
Market your application
You can start fueling the future sales of your product already before you initiate the creation of your banking mobile app design. The popular app stores have strict specifications for the products they offer; so, you should ensure that your solution meets those requirements perfectly.
Collect feedback, optimize, then update
Your task is not finished with launching the app. To stay afloat, the solution may require improvements and updates. Therefore, get reviews from mobile communities, bloggers, and opinion leaders. Besides, you can apply for analytical assessments by experts and add your solution to ratings or listings of top applications. Comprehensive feedback will allow you to reveal the strengths and weaknesses of your product and continually enhance it.
How Much Will a Monzo-like Bank App Development Cost?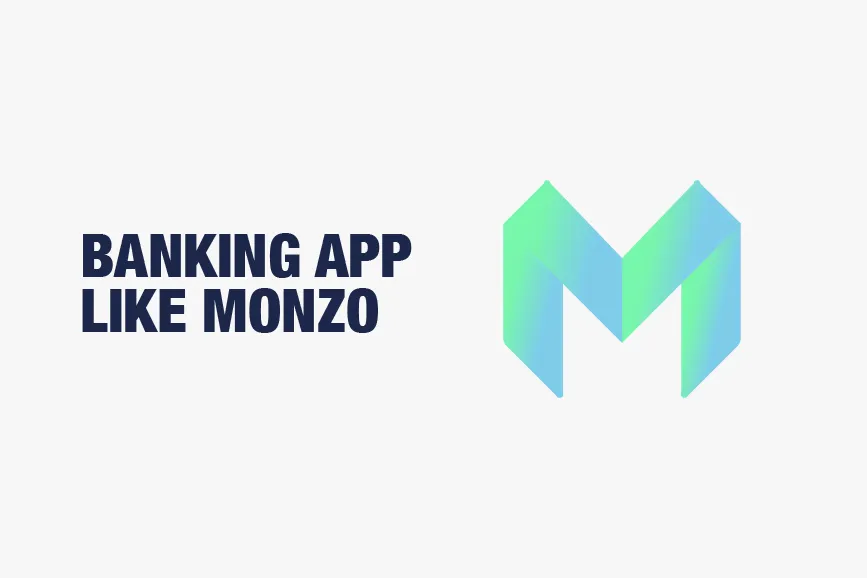 Once we have covered the essential steps of the software solution development, it's time to discover how much it will cost.
There are several factors influencing the price such as:
Features;
Complexity;
Platform;
Location of the development company.
In general, the price for an application with the basic functionality will range from $35,000 to $65,000, while for a product with advanced features you'll have to pay from $80,000 to $135,000.
Conclusion
Online banking is one of the powerful trends in fintech, which justifies the investments in creating user-friendly banking applications. To succeed in this promising niche, it makes sense to learn from the experience of prominent players such as Monzo.
To maximize your benefits, adhere to the vital steps in the development process and address the potential challenges. Our abundant experience confirms that a partnership with professional banking application developers is hard to overestimate. Tech-savvy experts, profound knowledge of all rules and regulations, and the expertise to determine the optimal set of features enable us to create superior solutions. Contact us now to start tailoring your unique application!