The competition in the IT sector is growing every year. According to HeadHunter, the number of vacancies in the field of IT decreased by 25%, while the number of CVs increased by 15%. Today, your employment directly depends on your CV, because among all the competitors, the employer should pay attention to you. In this article, you will learn how to find a job in IT, and how to properly create a resume for an IT specialist.
Types of IT Positions
There are many different roles and positions in IT companies. Your task, based on your skills or work experience, is to indicate some 1 specific role. If you are interested in different vacancies within the same company, it is better to make several CVs. But at this moment it is important not to go too far - you should not respond to all vacancies in the company. HRs will notice that you don't have a clear goal.
You can always safely apply for related positions at the same time (for example, for a product manager and a monetization specialist). However, when resumes for the position of a developer, a marketer, and a product analyst come from the same person, this is misleading. It is difficult to understand the motivation of the applicant and in what area he is really interested in developing. Most likely you will be asked what caused such a decision.
Description of Your Experience
Quite often, IT specialists indicate in their CVs only the place of work, position and how long they have been in this position. Be sure to briefly describe your responsibilities, deliverables, and the technology stack you have used. If the NDA does not allow you to talk about your projects, you can describe these projects in a rather vague way, but to make it clear what area these projects were related to.
A small summary gives recruiters a rough idea of ​​how useful you will be to the company and will generate more interest in hiring you. A brief description of what skills you have and how effectively you use them helps to build a more holistic picture of you.
If you do not have experience, but you have completed courses or university - indicate this. Describe acquired skills, attach links to diplomas or pet projects.
Portfolio, Code Examples, Achievements
It will be a big plus in your CV if you provide links to your projects and results achieved. At the same time, it is not necessary to attach a huge folder with a detailed and exhaustive description of all your work experience over several years. It is unlikely that HR specialists will have time to reread 10 pages of your resume. It will be enough to indicate the most basic and important details in your opinion.
For developers - links to projects, GitHub, and mobile apps you've created.
For UI/UX - links to websites, blogs, or apps that you designed or contributed to.
For QA - links to products that you have tested.
For PR/Marketing - marketing campaigns, projects, articles.
If your work has not allowed you to accumulate specific projects for a portfolio, you can always insert metrics that you are proud of and how your work influenced the indicators. For example, attach indicators that have grown thanks to your efforts and your professionalism.
IT Specialist Resume Sample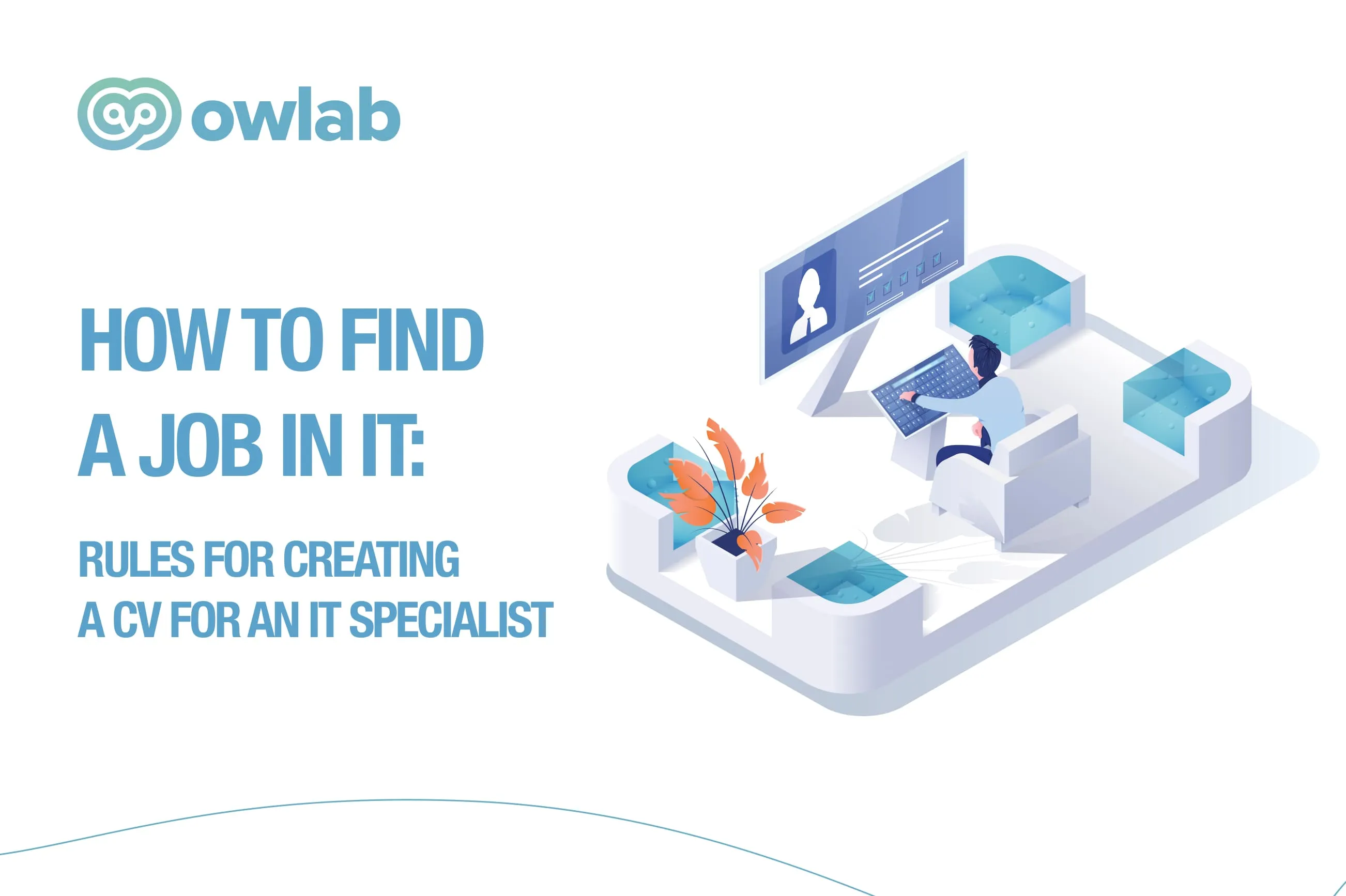 The creation of a resume must be approached not only responsibly (check grammar and style), but also creatively. If you are UI/UX - a summary can be made in the style of the mobile application interface. If you are a front-end developer, you can make your CV in the style of a landing page or even a game. Also on the Internet there are quite a lot of good templates, both paid and free. Here are a few services that Owlab can recommend for you:
Canva.com — this is where you can make a creative resume, there are both paid and free templates, but this service has a 14-day trial subscription, which will allow you to use all the features for free. Once your resume has been created, you can cancel your subscription.
Resume.com — lots of templates and examples to draw on when creating resumes and cover letters. Pretty convenient service for creating CVs.
Enhancv — great for the visual design of your resume.
Cvduck.pro — this service allows you to check your resume. Experienced HR specialists will give you advice on how to improve your CV.
At the same time, we highly recommend that you do not attach your CV from job search sites or resumes in which one way or another there is an advertisement for the service. This may give the employer the idea that you didn't put much effort into your CV.
Do I Need a Cover Letter?
Until now, one of the most frequently discussed questions: is it necessary to write a cover letter? The short answer is yes. At the same time, it should not be a template for all vacancies, but a thoughtful text. Carefully study the job description and compare the requirements and tasks with your experience.
For example:
The requirements indicate: 2+ years of back-end development of commercial projects, knowledge of Python or Node.js;
In the cover letter we write: 4 years in backend development, worked in company X on project Y, ability to work with Git, PostgreSQL, REST API + JSON.
The purpose of a cover letter is to show that you are a good fit for the position. Therefore, it is extremely important for each individual vacancy to write a unique cover letter.
Where and to Whom Should I Send my CV?
The answer to the question "how to find a job in IT?" - Write a good resume. At the same time, the probability of your employment by 80% consists of what the HR manager sees in his mail. At the same time, your CV can be sent not only through the form of the company's website, but also find the recruiter's profile on LinkedIn and write to him. Or if the HR manager left other contacts, such as mail or messenger, you can write to him directly.
We hope that this article will help you write the right resume and find a job in IT!