Mobile app development services are one of the primary necessities of 2020, and it comes as no surprise. The healthcare sector is one of the largest economic sectors with permanent growth in Europe and America. With the COVID-19 pandemic transforming the world, doctors' and patients' demand to use medical apps has increased significantly.
According to Grand View Research, the global mobile healthcare market is expected to reach 236 billion USD by 2026. More than 70% of the largest US hospitals already offer medical apps, and 90% of doctors use their smartphones for work.
The pandemic has also fueled an accelerated shift towards online outpatient activities, avoiding physical contact via an ultimate symptom checker, and providing medical care without any geographic constraints. This way, doctors use video chats, instant messengers, emails, and voice calls to provide advice and accompany the patient. And the Android/iOS medical solutions help with this by creating a robust digital ecosystem.
While medicine is a challenging area in terms of technology adoption, there has been significant progress in recent years - from digitizing medical records and managing chronic diseases through a heart health app to training surgeons via virtual reality products. The healthcare industry has reached record levels of investment, making the market fertile for startups.
The COVID-19 App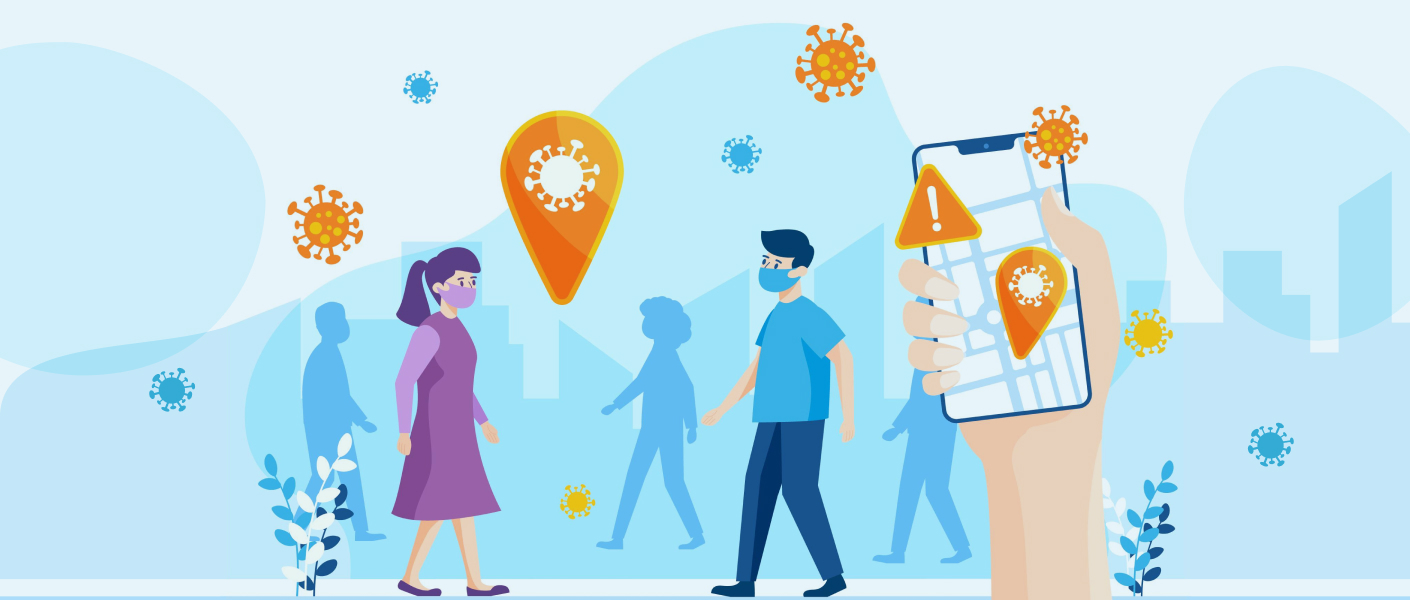 Since the beginning of the COVID-19 outbreak, many coronavirus trackers have been developed that allow you to report symptoms, monitor the illness, receive notifications of possible contact with people who have the virus, and monitor patient compliance with quarantine measures. This way, ultimate healthcare solutions are helping slow the pandemic's spread.
All of the described mobile products work differently, but their functionality is based on collecting user data. For example, a self-diagnosis pandemic app focuses on monitoring symptoms, providing information to the user, and sending notifications to healthcare facilities. A COVID contact tracing application, aimed at contact notification, uses geolocation and synchronization with data on other devices.
iPhone COVID exposure apps play a significant role in gathering statistics on incidence growth, symptomatic manifestations, and socio-demographic data. Of course, the main issue remains the same: keeping the user's information confidential as it's collected and stored.
Ultimate Healthcare Solutions: Which Features to Include
Ultimate healthcare solutions for Android and iOS are roughly divided into two categories:
Apps for doctors. These allow you to track medical history, receive data in real-time, make clinical decisions effectively, keep records, draw up a schedule, and manage personnel.
Medical apps for patients. These are digital solutions, such as a heart health app, for making appointments, finding the right doctor, and monitoring chronic diseases.
Finding and developing the right solution for a specific problem can be challenging. Functionality varies by product type and can differ considerably, but every custom healthcare app should have a package of critical features. Let's consider them in more detail:
Creating and editing a user profile. For users to interact with the application, it is crucial to provide registration and authorization, both via email, telephone, and social networks.
Loading and viewing files. Android/iOS medical solutions allow users to download and store clinical trial results, ultrasounds, prescriptions, and other information necessary for efficient interaction between a doctor and a patient.
Geolocation. While we've pointed out the importance of determining location in the COVID-19 apps, it is no less essential in other mobile medical products. The geolocation function allows you to find the nearest specialist and clinic, plan a route to the facility, and more.
Search and advanced filters. These allow patients to find the right specialists quickly by viewing their profile, rating, location, and other decision-making data.
Scheduling and canceling an appointment. When implementing this function, it is crucial to synchronize data and update information in real-time.
Messenger or chat. Enabling communication between a doctor and a patient or different healthcare professionals is necessary for a competitive application.
Payment. Connecting payment gateways allows you to perform financial transactions safely within the platform.
Push-notifications. Depending on the type of mobile product, these alerts notify the user of upcoming visits, an appointment cancellation, or the need to take medicine.
Ratings. Selecting a physician is often based on feedback, so it is crucial to implement a feedback-based rating system so patients can search for the right healthcare professional.
Besides developing critical functionalities for the MVP, it's important to create a user-friendly and understandable UI|UX design and ensure user data security. Remember, you'll need to develop healthcare apps for both Android and iOS operating systems to reach your entire target audience.
Legal and Security Regulations for Healthcare Applications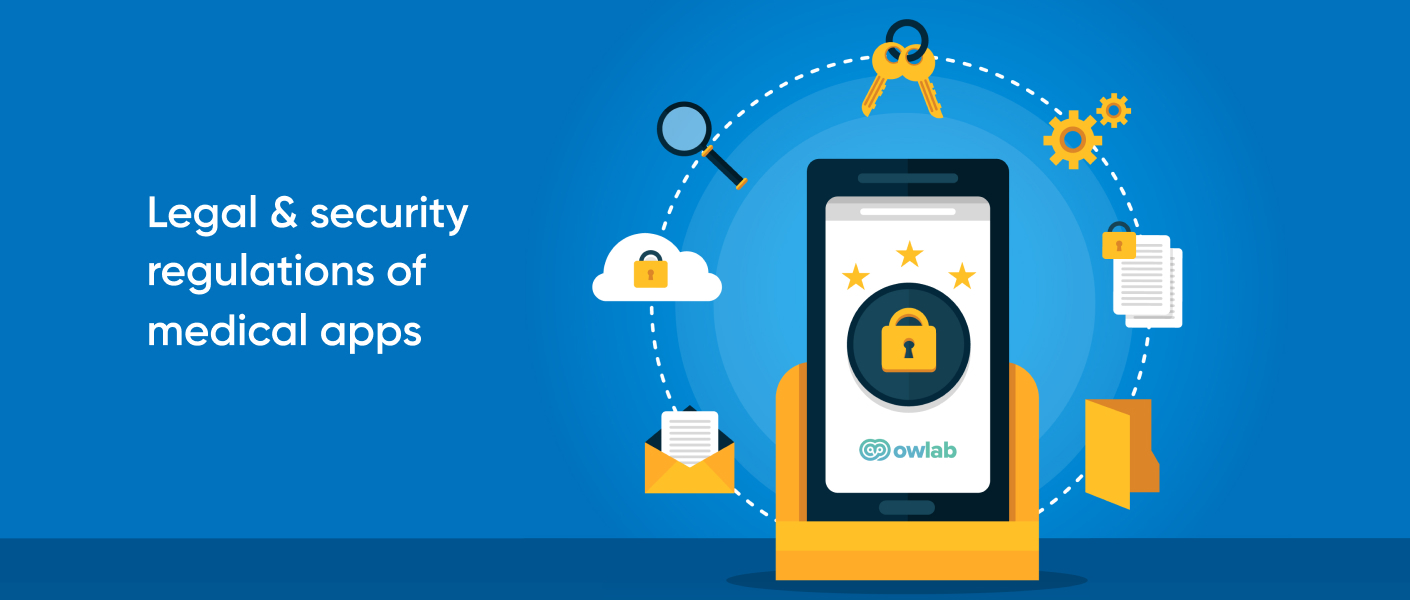 Security is a critical consideration in all application development, but healthcare needs even more attention. To hackers, medical software is a treasure trove of confidential data and personal information.
Besides technical aspects of security, such as reliable encryption algorithms, multi-factor authentication, and antivirus solutions, another important element is the rules and laws governing the use of medical data. They differ from country to country, so it is essential to do some research before developing an application.
Let's look briefly at the legal aspects of citizen data protection for healthcare apps in four key geographic regions:
USA. A mobile application must not only comply with the 1996 HIPAA regulations, but the HITECH Act, CCPA, and NIST as well.
EU. If the application is intended for European Union citizens, even if you are not a resident of the EU but are processing personal data from EU residents, you must comply with the terms of the GDPR (General Data Protection Regulation). NIS and ISO certifications are also required.
The United Kingdom. In addition to a mobile app being GDPR-compliant, the Data Protection Act 1988 is also applied here.
Canada. In this country, the Personal Information Protection and Electronic Documents Act (PIPEDA) is enforced.
An additional safety net would be to incorporate BYOD policies into medical applications for doctors, as they primarily use their own devices to serve patients.
How to Create a Custom Healthcare App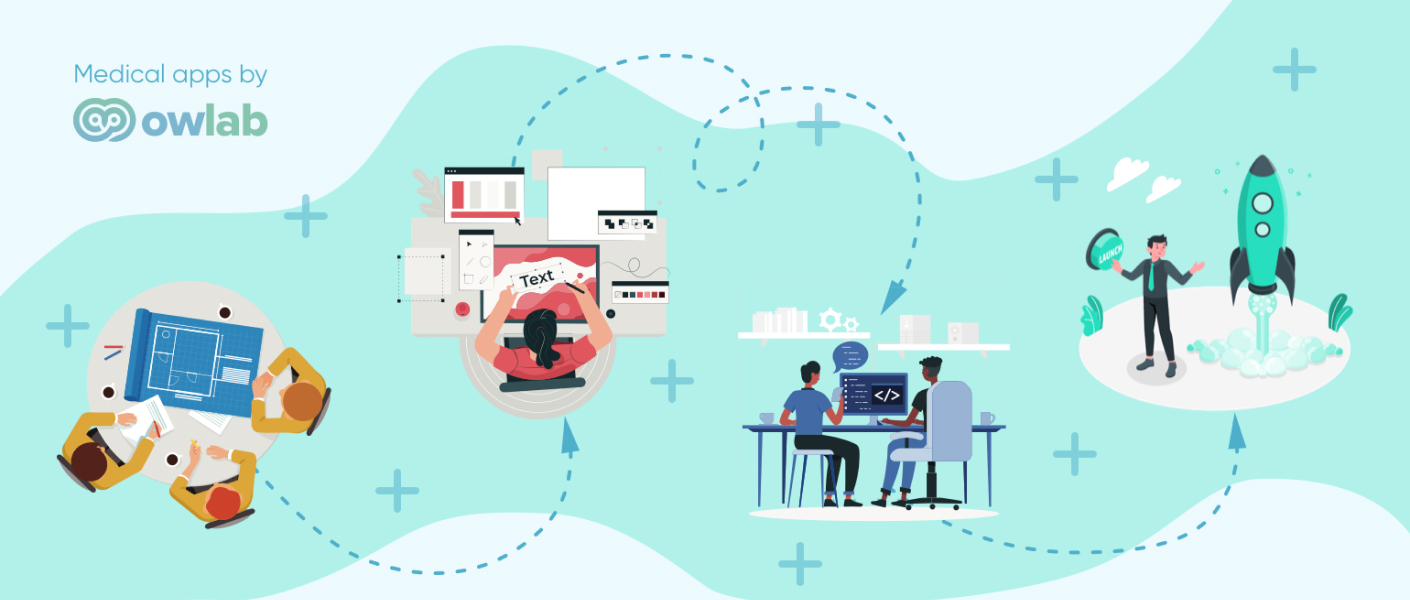 Creating mobile medical software is a multi-step process: from healthcare app ideas to publication on the App Store and Google Play. Besides the custom product, it is necessary to create an administrative panel to manage data and access. A mobile medical app consists of a client interface and a server, which must communicate without errors.
At Owlab, we adhere to the following steps in healthcare app development to provide the best technical solutions for our customers:
Discovery phase. We determine the product's requirements, its features, and characteristics. The result is a technical assignment that contains a complete picture of the application, including prototypes, technology stack, and a deployment timeline.

UI|UX design. We design medical software for people of different ages and social categories, so it should be clear, convenient, and visually attractive.
Actual development. Specialists create the product's user and server sides, conduct tests, and eliminate errors.
Launch. The application has been tested, has all the necessary functionality, and is ready for user downloads.
If you are looking for a custom healthcare app, contact us! We create competitive healthcare solutions for doctors that meet user expectations and all data security requirements