What Is Motion Design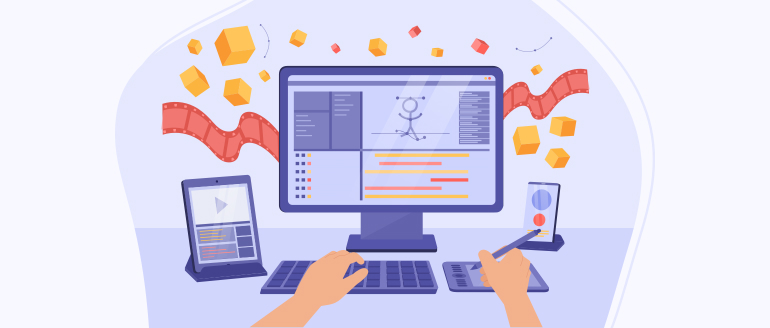 Motion designs combine video, audio, and text into a single animated plot. Three channels (image, sound, and text) of information are used simultaneously. Together, they have a stronger effect on the emotional perception of the viewer: the text attracts attention, the sound and graphics are vividly imprinted in the memory. The main task of web motion design is to attract and retain attention while informing users about the product as much as possible.
UI motiondesigner combines a vast array of skills, from graphic design and animation to the basics of drama, directing, and storytelling. And, of course, interactive website designers use modern graphic, 3D, and video editors.
Website Interactivity Benefits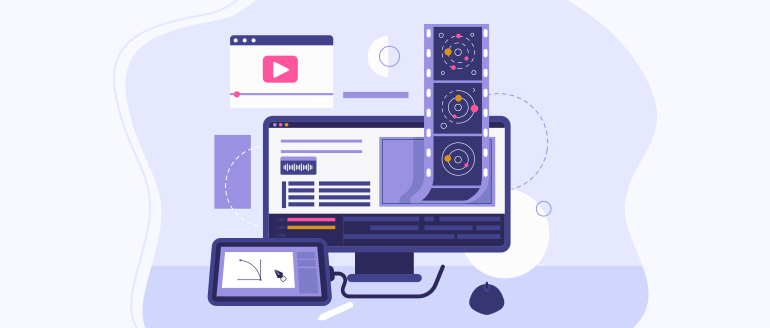 Interactive web design has its benefits that engage with the user offering the best service and goods.
The message should be concise, quick, and clear. You don't have much time to tell your customer everything you want to say. Advertising is also very limited in time so motion design helps here.
The short video can contain the main idea, the defining concept, and a lot of information rather than a simple graphic design can include.

Interactive effects are better than simple static text. They catch the eye and engage with the user.
UI motion graphics has already taken over the 2D and 3D worlds, so some are engaged in the animation of two-dimensional graphics, some are engaged in three-dimensional, and there are, of course, who do both. In any case, a good specialist should understand not only animation but also, first of all, graphic design, as well as composition, typography, color theory, and color psychology.
Where Website Animation Effects Are Used
Every year, web motion design is used in different new ways: from the design of animated logos to realistic visual tricks in video advertising. The use of motion animation can improve communication with the consumer or help to create unique interactive websites. The main thing is to formulate the goal and choose the style that is relevant to the target audience.
Best Interactive Website Design Examples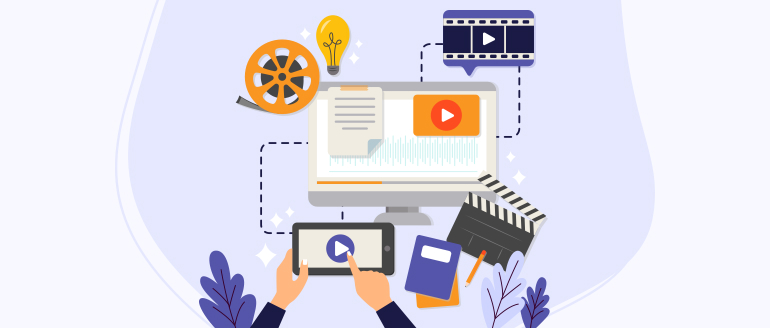 Let's take a look at the basic techniques that web designers use when applying interactive motion design to pages.
Animated Logos
Designers create logos as animation, and it is a top-notch solution that always brings extra attention. The most famous example is the Google logo. This technique allows companies to draw the user's attention to the organization's identity and to increase brand awareness.
Background
To create a different element that will make your website stand out from the rest of the companies, engage with the user, and successfully sell the product, designers use various techniques. One of them is the use of interactive web design rollers as a background.
Motion design effect as a background is an interesting technique that can effectively highlight the product immediately after a visitor enters the site. And this is the main advantage of this approach, users immediately pay attention to the main screen and make their impression of the product.
Navigation Elements
Animated and interactive graphics involve the use of animation on sites as a separate element of the layout. So designers create components that can no longer be attributed to the traditional website details. Elements that can use motion design include navigation elements.
Call to Action
While motion UI is used primarily as an add-on, animated CTAs serve a different purpose. Since one of the goals of a website is to sell a product or service, calls to action play a significant role. Buttons, forms, contact blocks, and fill-in fields increase conversion. With the help of motion design, you can attract the users' attention, interest them and induce them to take the target action, such as subscribing to a newsletter, placing an order, leaving contact information, buying a product, etc.
Advertising Banners
With the help of motion design and animated videos, you can attract the attention of users to promotions and advertising offers. Motion always attracts the attention of visitors. This is why motion design is so popular among marketers.
Storytelling Website
Sometimes designers strive to create a unique and non-standard resource. In this case, motion design is applied as a whole concept of website design. The design of the resource is completely based on motion design and tells the user a whole story about the product, company, and so on. This technique is also called storytelling. This approach is often used on websites presenting movies.
Product Presentation
Promo sites are resources that present a particular product or service. Often, interactive websites are used as promotional sites, as it is one of the most effective ways to increase brand awareness and attract the attention of the clients, to engage them with an interesting approach.
With the help of various motion effects, designers manage to draw attention to the product and engage the user. Different colors, unique typography also create a concept that is hard to forget.
Motion design is an effective tool for a stylish and interesting product presentation. Web site interactive and animation always catch the attention of the user.
Video Content
Also, designers use motion design to complement the text and graphic content. For example, they can add videos on the page that tell about the product.
Video content is preferred by most users, as the information in the video is easier to take, the user doesn't need to spend a lot of time reading the text. Therefore, motion design also helps to facilitate the user's perception of content and effectively present a product or service on the site.
Extra Elements
Motion design can appear in specific elements or areas on a page. Such elements complement the site, add interactivity, create a special atmosphere. Usually, they are small details that do not present a certain semantic load but affect the perception of the content part by the user.
A loading screen is another place where the motion design can be used. Many websites, take time to load and so that the user does not leave the site, designers create stubs.
Final Thoughts on How to Make an Interactive Website
Motion design is a rather specific niche with animated graphics that can be embedded in the main design without violating the concept of the site. Here are some extra benefits of using motion design:
dynamics always attracts attention, therefore, with the help of motion design, developers and marketers can control the user's behavior, draw their attention to the necessary elements;
unlimited possibilities. Motion design uses new technologies and trends in graphics. Such techniques as 3D effects and video background allow to present the maximum product benefits in a short time;
ease of perception. Most users prefer video over text or graphics. Therefore, motion design is a great way to convey information to customers in a simple and accessible way.
Special effects are a great solution for websites that need to stand out from the competition on the market. With the help of various interesting techniques, designers use creative solutions to attract customers' attention, increase brand awareness, and simply create an effective design. When using motion design techniques, web designers should pay attention to:
Technical capabilities. Designers should take into account not only the appearance of the website but also its internal structure. If the site constantly breaks, does not display video or sound, the created layout will not have the desired effect and will only annoy users. Site usability. Creative solutions allow designers to create memorable resources that may interest users. As a result, the client will go to competitors with a simpler and more understandable site, leaving an interesting resource. The abundance of extra effects can also confuse users and crowd out the product itself. Sometimes marketers and designers are so absorbed in creating a creative video that they forget the main goal is to present the product. Therefore, it is important to use creativity in moderation and not forget about the product itself.
When used correctly, motion design can be a great tool for increasing website conversions. Users remember effective product presentation and creative animation with ideas,engage more users and bring your business to another level! Ask for a UI design and let's create a superb product! so your company will always differ from competitors.
Owlab.group is ready to help you with unique interactive websites to engage more users and bring your business to another level! Ask for a UI design, and let's create a superb product!