Since the launch of smartphones and different devices, the app market has reached a much wider audience than anyone would have imagined and the "how to earn money from apps" appeared.
Although have you ever wondered how to make money on free apps that people download every day? We've all downloaded plenty of those and wonder how do the developers and their teams make money?
How One Can Earn With A Free App?
How many mobile apps do you use per day? Let's say 7-8 apps – this is the average number among all people in the world. And only up to 10% of users buy an app if they like it enough to spend money on. Not many numbers to get a coin, eh? However, 98% of all mobile applications profits come from free apps. Why does one need to pay for an app if there are plenty of free ones that perform greatly and can help with everyday tasks? And how to make money from mobile apps in this case?
As we see, free applications have the possibility to generate money, but one question remains unsolved: how to make money with a free app?
Things to Consider Before Picking the Monetization Strategy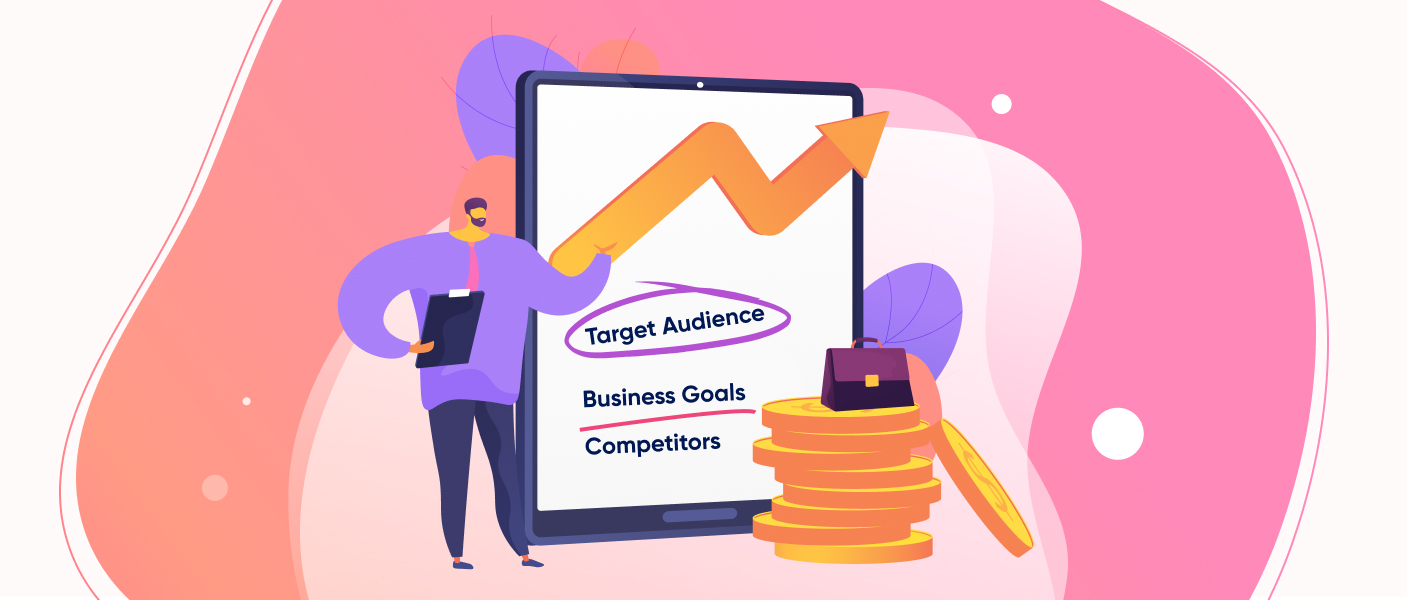 Check everything before writing down your mobile application monetization strategy. You won't stand a chance of being free to play money-making if ignoring your goals, clients, and competitors.
Business Goals
What issue does your project solve? Make sure to meet plenty of requirements of the market and your customers. And that should be one of your goals for sure. At this stage, you also need to think about ways you'll be making money that we'll cover later in this article (subscriptions, freemium, sponsored ads, etc).
Target Audience
Learn your client. This is the essential step for any business as you create a product for specific people to use specifically. As soon as you learn which people exactly need your service or product, you'll know what advertisement to make, what issues to solve, and what to offer. Besides making this entirely for profit, try to see the importance of your solution for your customers. This will also help you to build a brand that will bring more money in the future. After learning about your client, create a customer's portrait. This should be helpful when adding the necessary functions and predicting the time users will spend on your application. And when your app is helpful, then you'll make money with free apps.
Competitors
Don't try to trick yourself that there are no competitors. There are. Anyone who solves the same issue of the customer as you do is your competitor. Learn them, find weak spots and see how your solution can be better. Also, check their ad campaigns and look for the patterns. When you create an ad, you have to make something different and easy to understand. You should do all these steps to make sure you stand out among your competitors.
Monetization Strategies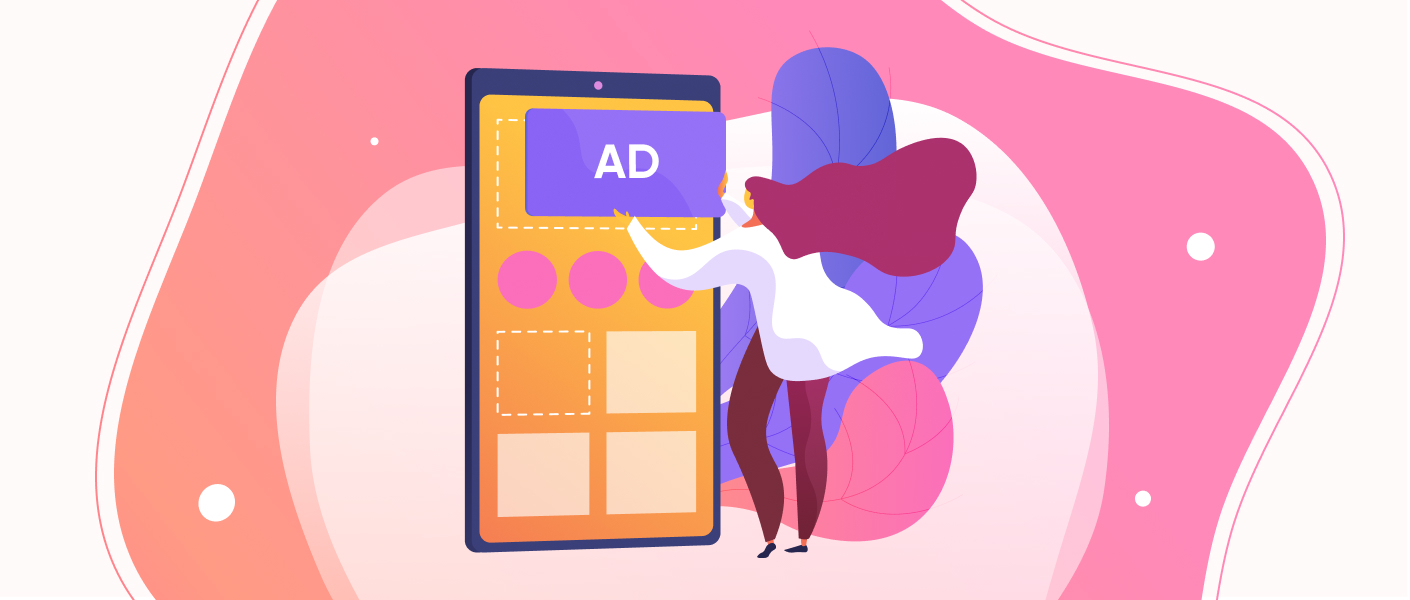 Great news: you can pick the strategy that is already made by others. You can mix them or stick to the one to see if it works and each can answer your "how free apps make money" question. In any case, if one strategy doesn't work after testing it for a while, feel free to change it to another.
Advertising and Affiliate Marketing
Have you ever watched an ad to get that extra boost item in the game? Well, while watching that advertisement the developer got a revenue. But it doesn't end here. Each advertisement is based on one particular action that brings money. They are cost per click, cost per view, cost per install, cost per impression. These are basic tools to start grossing money. Make sure to learn all of them and pick the most suitable for the current situation with your marketing specialist. Ok, this is how you know what price to name for the ad placement. Let's see how you can show the promoted ads to your users:
Banner ad – shown somewhere on the display (usually top or bottom). It has lower engagement rates.

Video ad – last up to half a minute and provides with the opportunity to show the possibilities of the promoted apps.

Native ad – is shown as they are part of the app. They are a bit irritating since they don't look like actual ads.

Interstitial ad – is a pop-up that is shown while the user enters or exits the application.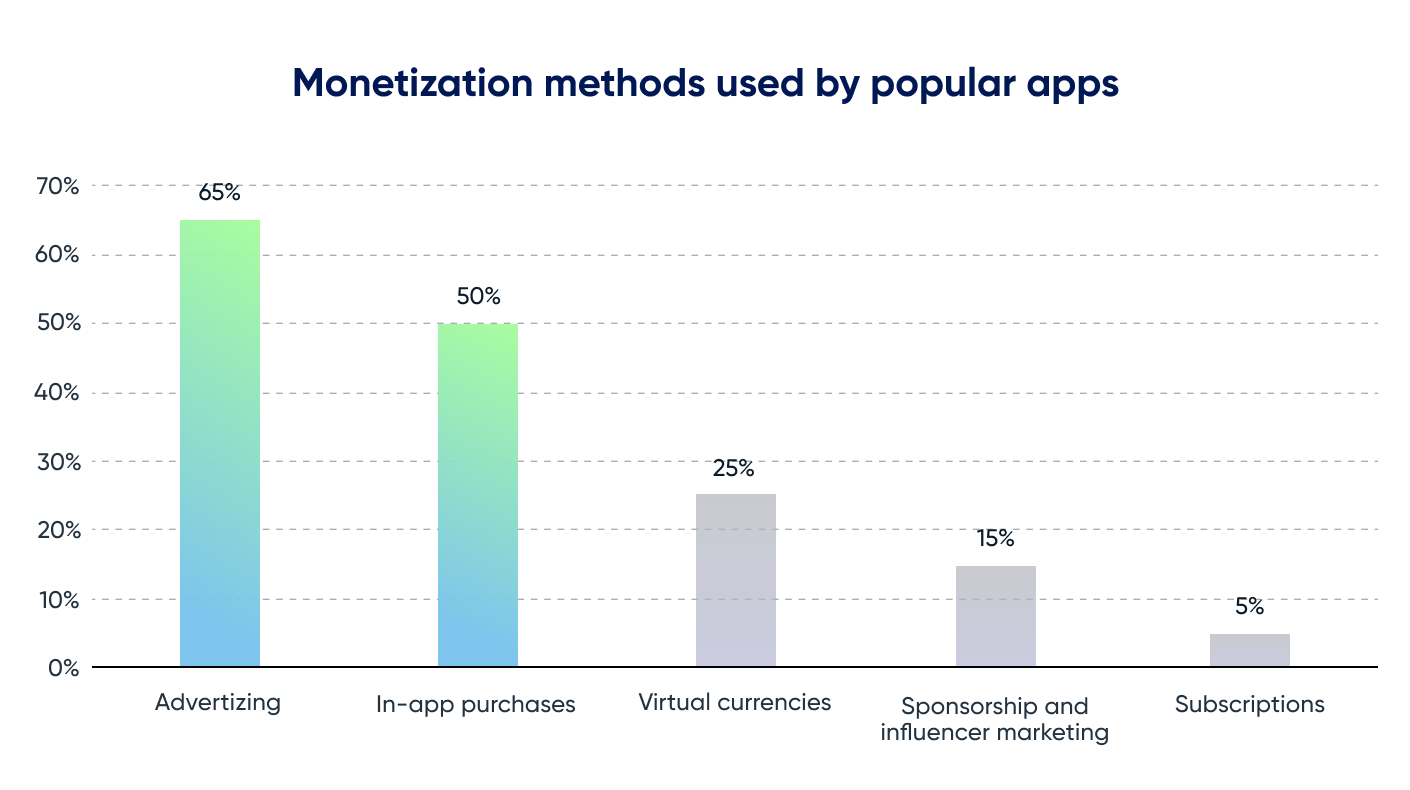 Sponsorship/Influencers
This monetization option is quite similar to ads but it provides better engagement and integration. You can place a logo or an item of the sponsor in your app as part of the background. It works best if your product's type matches the type of the sponsor. For example, if you are having a successful game where people drive cars, try to reach some car or car-related brands to place their logos or products inside the game. You've surely seen such scenes in movies where the main character uses a specific phone or drinks specific beverages. And when you work with influencers, you create an image of your app through the eyes of your so-called ambassador. But make sure to find one that represents and shares your views and values.
In-App Purchases/Freemium
Create something valuable that can be used within your app. Let's say digital currency, points, items, skins, etc. Create a free app with things that can be bought additionally to get better experiences. You've might notice such things in games, where you can buy additional skills, money, skins, transportation, etc. to boost your performance. Notice how little those things cost – it is not crucial to the user's pocket to boost their game in this way and get more satisfaction. This is how do free play games make money.
Subscription
If you create any type of content that upgrades constantly, make sure to charge people who read/watch/listen to it. So, as you can already guess, subscriptions work best with educational, reading, listening, watching services, like Spotify, The New Yorker, etc. As soon as the users get an app, they receive a trial period to check the app and the content. As soon as the trial period expires, users have to subscribe to continue using an app. Note that you have to add third parties to get the payments. PayPal seems to work fine with this task.
Crowdfunding
The crowdfunding platforms will help you get money for additional development and marketing. However, it is only possible when you present your ideas in a way, people want to share their money with you. To say briefly: to invest in your ideas.
You've probably heard about some of these platforms like Kickstarter, Indiegogo, and others.
As for 2021, $17.2 billion were generated with the help of crowdfunding platforms in North America only. So check this option as well.
Transaction Fees
If you run an aggregator website with information on hotels, plane tickets, etc., and users can book all the necessary services via your website – get additional fees from each purchase. This will help you to monetize your business and provide people with the best services on the market.
Merchandise
If you have sick visuals and popularity among a specific group of people – create your own merchandise to bring your fans together. Besides selling people the items they would like to wear, your users most likely end up being an advertisement campaign themselves, while wearing their new favorite t-shirt.
Make a Coin With a Free Application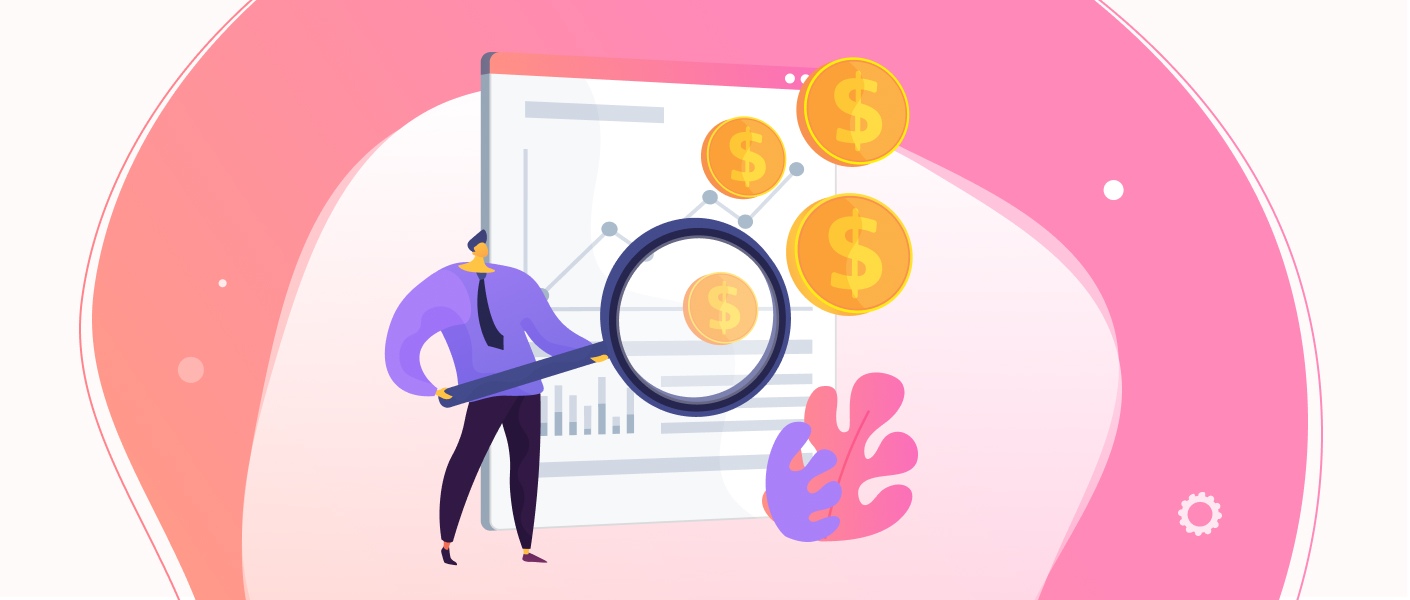 Ok, so how to make money from apps in one month with a free app? When checking the statistics, we've run into these numbers: about 25% of iOS and 16% of Android developers make about $5,000. We might say that this is a lighthouse for the niche.

When mixing different strategies with different forms you can achieve the desired results in a while. In any case, you should follow your competitors at all times and make sure you create better content than they are.
Final Thoughts
How do free apps make money? In-app ads will always work no matter what. And they are not going anywhere. These monetizing strategies will surely help to get a coin and to reinvest in marketing or development if you are just starting. You can let people download money apps for free and then implement one of the strategies.
But remember to check your competitors and talk with your clients in any convenient way. These are the most powerful tools for any business to achieve success. Besides, it will save you money on promotion since people will share it with friends as the app that really cares about users.
You can always ask for help if you need any support with marketing or business strategy. Creating ads and promoting apps is extremely fun and can be done in so many ways, that there is just no count to ideas.
Ask Owlab for assistance.
FAQ
How Much Money Do Free Apps Make?
An app brings around $5,000 per month. But some developers make more than $500,000. And these numbers are achievable with the help of the superb marketing and product team. Just follow the market, ask your users, and be helpful.
Which App Is Best for Earning Money?
There is no such thing as the best app. The application should simply solve users' interests and be helpful. For example, games help to keep busy or emerge into new worlds after a tiring day at work. Pick the niche you are most passionate about so you feel happy while working on it for the most part of your day.