Have you ever dreamed about making your own coins? What if we say that it is possible? Since the very start of the cryptocurrency "gold rush" in 2009, everyone sat on the edge of the chair holding their breaths and trying to decide whether buy those unknown things or not.
It did have its ups and downs, but in the end, people who've invested even several dollars back in the days, now have a solid fortune. And it is possible to spend this money on goods and services. Some countries, like Japan, even let people use it on a day-to-day basis.
Good news: everyone can create the personal cryptocurrency with the help of a professional team that will not only develop one but also promote, list exchanges, provide maintenance and upgrades.
The Definition of the Cryptocurrency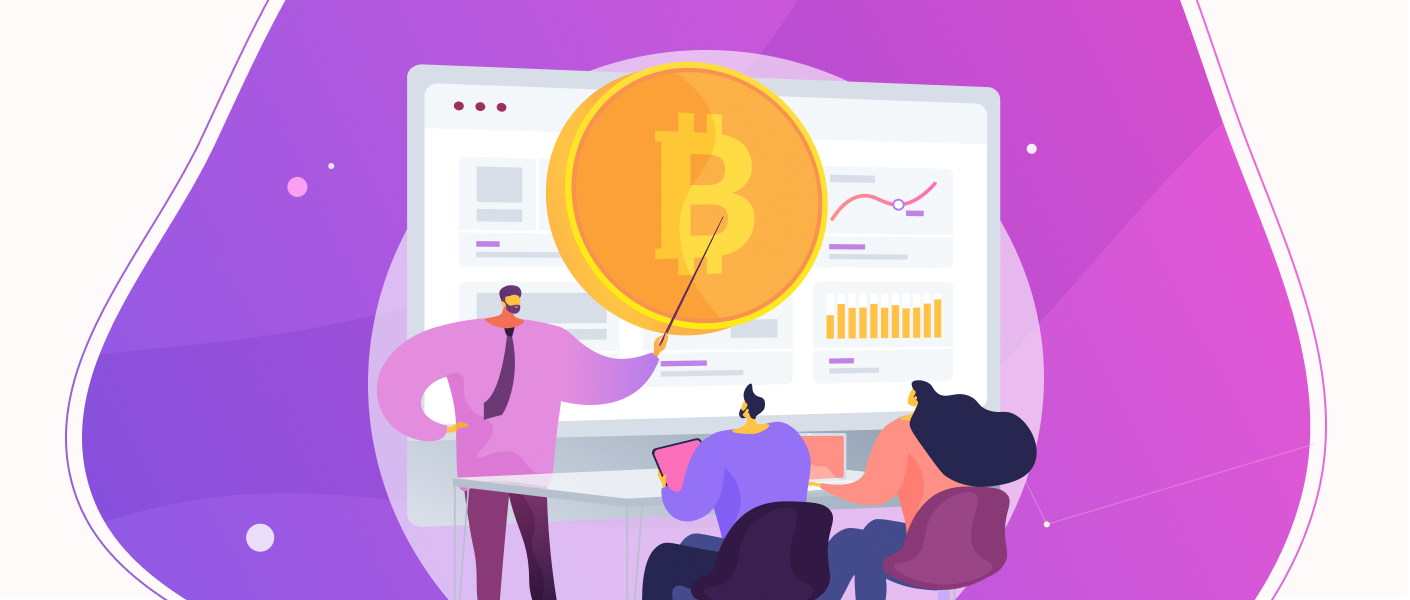 Cryptocurrency has been on the market since 2009 but still is a big mystery for many. It is still debatable whether one should or should not invest in any cryptocurrency: some people think that this is just a huge hype that needs to stop while others see it as the next step for the world economy.
So, before moving forward to the "how to make your own crypto coin" question, let's see what is all this buzz about.
Cryptocurrency is a digital currency protected by cryptographic technologies. These monetary units have no physical analog, they exist only in virtual space.
The term Cryptocurrency came into use after the publication of an article about Bitcoin (one of the first cryptocurrencies). Bitcoin is the brainchild of Satoshi Nakamoto who presented the concept of a decentralized payment system on October 31, 2008. Its main principles are anonymity for all participants, protection against frauds, and independence from regulatory organizations.
The cryptocurrency network is made up of interconnected blocks of transactions. Each subsequent block contains information about the previous one so that you can build them into a single chain and get information about all previous transactions. However, this chain doesn't include information on cryptocurrency users. You can get those blocks while mining, but it's quite hard to do.
The Use of the Cryptocurrency
You need cryptocurrency for the same reason you need money – get items of services. So before answering the question "how to start your own cryptocurrency", you need to get the basic knowledge.
But there are some important preferences of cryptocurrencies:
It is not affected by inflation. One can't simply print out papers and use them. It is said, that there are a limited number of cryptocurrencies.

It is decentralized. The system is controlled from many places and it is difficult to hack the system. Basically, it can be run by many users, making it somewhat a cryptocurrency without an actual owner.

It is anonymous. One can check the transactions but can never find the owner as the currency runs from one wallet to another.
Your Own Cryptocurrency
There can be a whole lot of reasons why you want to create your own digital coin. However, there are several popular goals that may contain yours:
You have your own server and want to monetize it

You want to receive additional income

You are interested in creating something new
Anyways, even if each and every business owner or a private user has a specific reason, the main goal is pretty much the same – to get more money.
The Difference Between Coins and Tokens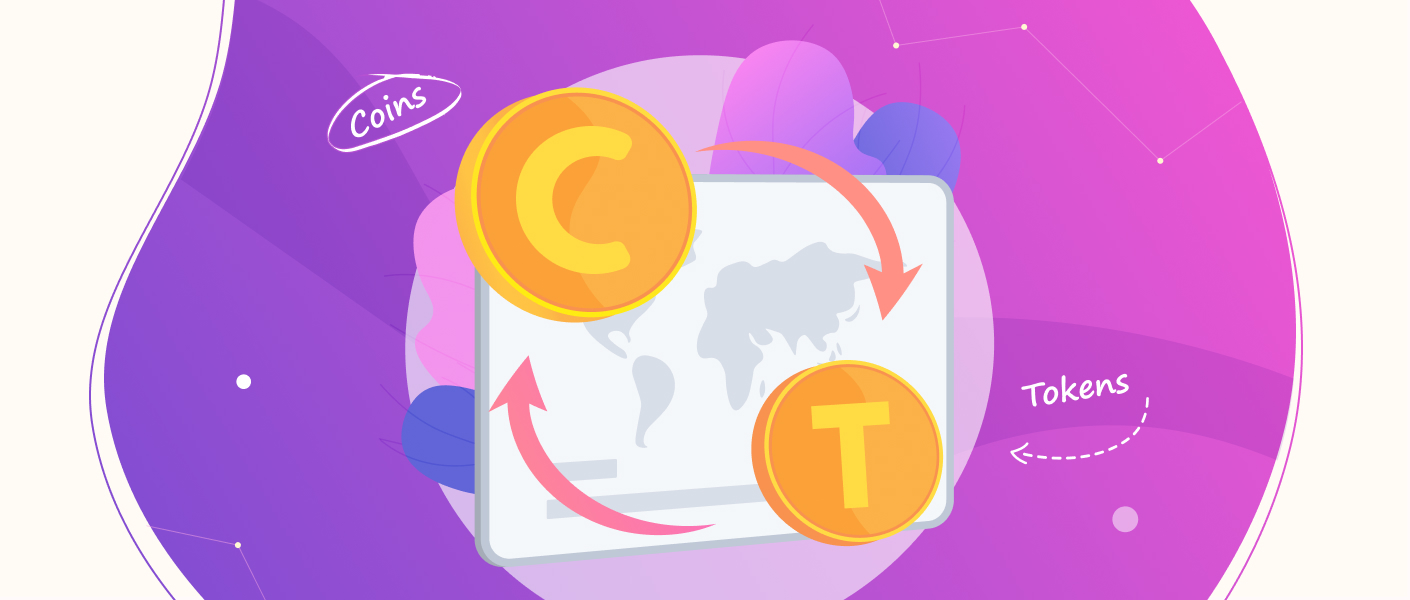 Coins
Digital coins only exist in electronic or digital forms. They are intangible and can be stored only in digital wallets, not real ones. You can manage these wallets through your smartphone, computer, laptop, and other devices with an Internet connection.
Cryptocurrency coins have the same properties as fiat currencies or government money. They can be used for different payments, money transfers, and savings.
The most popular coins in the world are:
Bitcoin. BTC

Monero. XMR

Ethereum. ETH

Litecoin. LTC

Ripple. XRP
Besides, there is another type of digital coin – altcoins. These are similar to the original bitcoin. Dogecoin (DOGE) is one of the most popular altcoins.
Tokens
Tokens are ​​generated on the basis of existing blockchains. They are considered digital assets that can be used within a specific infrastructure. There are different types of tokens, each serving to perform specific tasks.
Tokens fall into four categories: investment tokens (asset tokens), commodity tokens, payment tokens, and utility tokens (application tokens).
Pros and Cons of the Cryptocurrency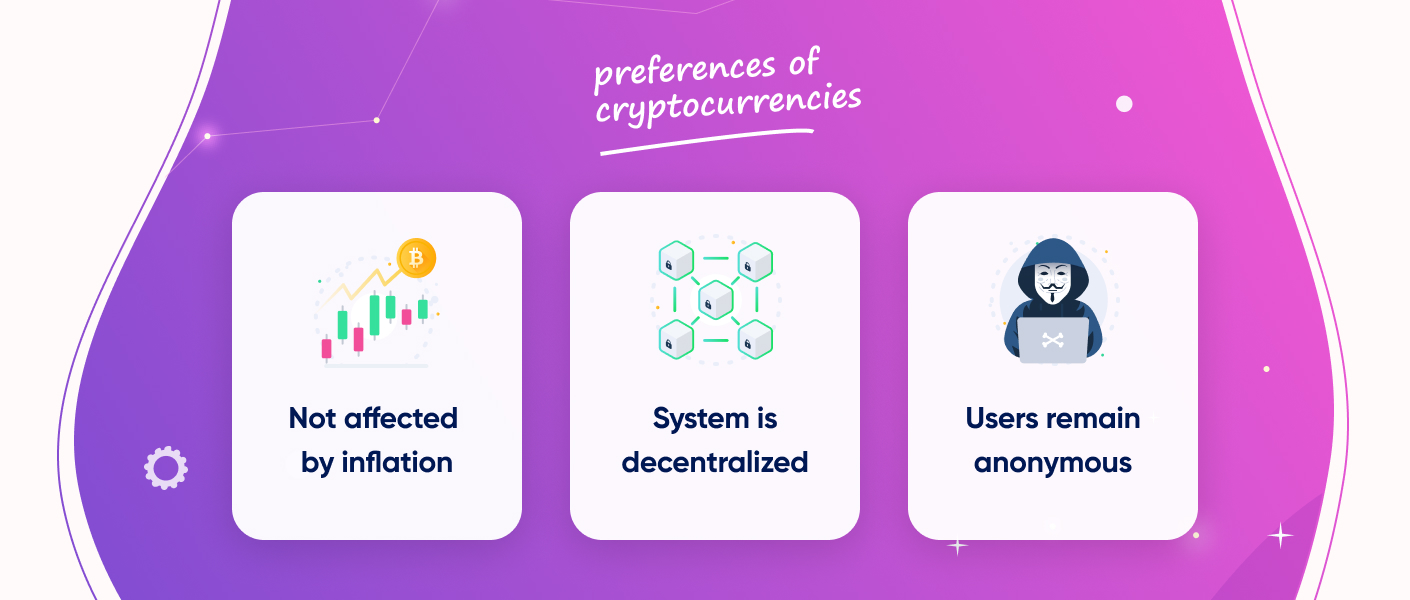 Cryptocurrencies have a competitive edge over other payment instruments and it's been a pretty popular topic these days. Before creating one for yourself, you need to be aware of all advantages and disadvantages.
| Advantages | Disadvantages |
| --- | --- |
| Decentralization | Is not acceptable everywhere |
| Transactions are fast and unlimited | High volatility |
| Transaction fees are quite low | Transactions aren't reversible |
| Transactions are internationally acceptable | Storage |
| Transparency | |
| Anonymity | |
Creation Process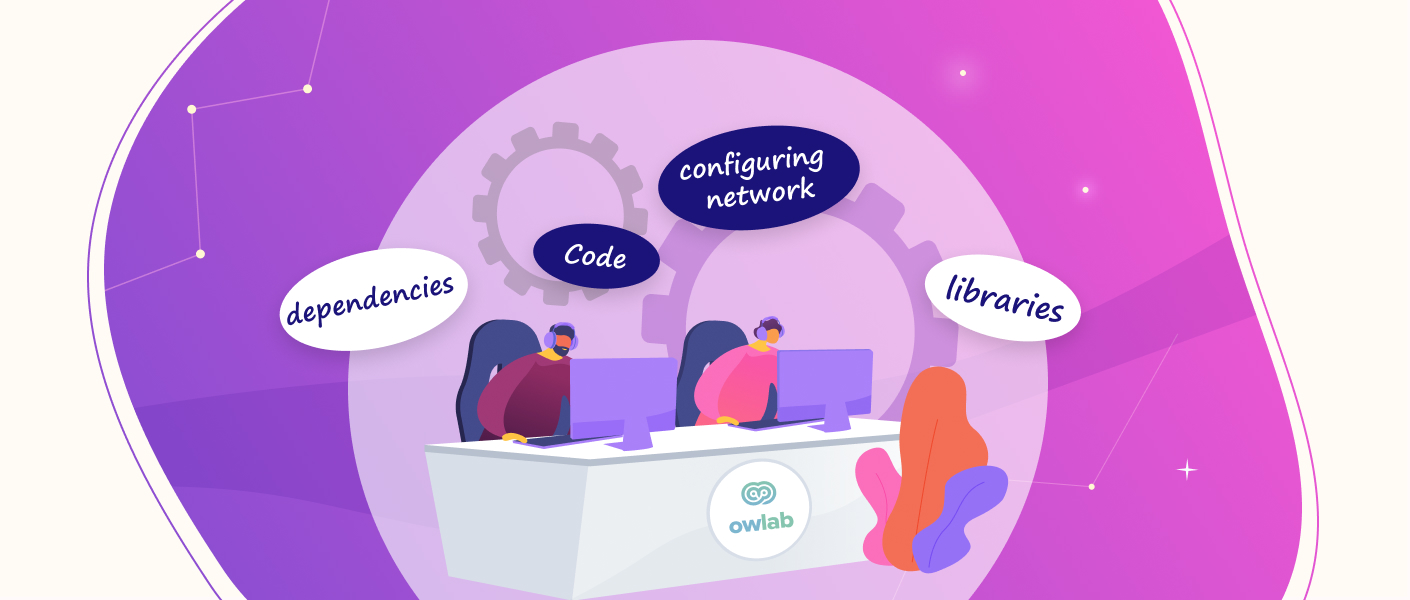 How to make a cryptocurrency? Making your own cryptocurrency coin is a complex process. After all, you need to find specialists who understand the principles of the currency, as well as have top-notch programming skills. And when hiring developers, keep in mind that coins will be profitable and it is worth finding a good team as an investment.
A superb specialist usually follows the specific algorithm:
Getting the basic code that is free to use, really, and is a standard for creating new projects. Choose the base for your upcoming product thoroughly since it has to be profitable in the nearest future.

Installing libraries and dependencies. It is important to check after downloading the code. At this point, it is crucial for a developer to have everything necessary on the computer for further development.

Creating a name. Make sure you have the name for your future cryptocurrency. Before this step, you need to be sure of it and check whether it exists or not.

Selecting and configuring network ports. Since all operations are carried out via the Internet, the developer has to manage the network where all data will pass.

Configuring currency generation. It is known that each cryptocurrency is generated in blocks, and in each block, there is a limited number of coins.

Image change. To finish the cryptocurrency creation, it is necessary to add corporate logos, icons, and pictures.

Else. When creating a currency, it has to be secure so all users could use it freely. To use it, you'll need a custom key that will act as a reliable instrument for financial transactions in a secure manner.
This knowledge helps to answer the question "how to make your own cryptocurrency?".
The Cost
There are plenty of goals for creating your own cryptocurrency. Some want to raise extra money for their projects, some want to use them as the currency in the application, etc.
And the price and the process are not influenced by your goals. Well, a bit, but you still need a well-qualified team with all the tools and experience. One of the first questions that arise all the time for most services is the price. Owlab is proud to share with you our prices so you can fulfill your dream.
Note that the final price varies greatly from your desired solution: is it a new one from scratch or is it a solution using an existing blockchain? Decide this one before moving on
Usually, the cost of cryptocurrency development includes all these expenses. However, it can vary.
| Stage | Time |
| --- | --- |
| Development | Different for each project. It can be 15 minutes or 6 months. |
| External Audit | About 30 days |
| Documentation | Up to 2 working weeks |
| Promotion/td> | Up to 4 weeks |
| Coin Placement | Up to 2 weeks |
Even if it seems easy to you to create my own cryptocurrency without prior programming experience – just don't. Even if you have the most precise YouTube video that promises you your own cryptocurrency in 15 minutes.
This development has its own hidden rocks and pitfalls that only developers can solve. Worst case scenario – you lose a whole bunch of time creating something, that we'll create in a week.
Final Thoughts
How to create your own cryptocurrency? Cryptocurrency creation is a bit tedious and not every person can handle it. But we all work for the result and this process is definitely the one to sweat and toil. And as far as crypto wallets exist, they'll need coins and tokens to be there.
Despite a highly hyped team, there is a chance to create a coin that will be the next Bitcoin.
FAQ
What Do You Need to Make Your Own Cryptocurrency?
There are two ways in which you can create your own cryptocurrency. Either you spend lots of months or years on this task. Or you can hire a professional team who might do it in 15 minutes, depending on your task and goal.
Is Making Your Own Cryptocurrency Profitable?
It is. It highly depends on your goal, but overall, the cryptocurrency is still in its infancy, you be a millionaire very fast. But, for the same reason, it can go down like a shooting star. Risks are high but so is the prize.