Blockchain is changing everything. But what place does it have in business?
Blockchain is often called the backbone of the economy of the future, but what if the future is already here? Already today, some establishments, shops and companies are introducing cryptocurrencies into circulation. In December 2021, Elon Musk tweeted that Tesla would accept DOGE (cryptocurrency meme, which gained wide popularity thanks to Elon Musk) as payment.
According to Elon Musk, it was this coin that was best suited for accepting payments, because transactions were faster, and the commission was much less than that of the largest currency in the world - Bitcoin.
But were Tesla pioneers in this regard? Of course not. Moreover, all over the world, from coffee shops to hotels, they already accept cryptocurrency as payment. Is it better than the usual dollars and euros? Why do some businesses switch to paying with cryptocurrencies? Let's figure it out!
Pros of Blockchain Technologies
Probably, in the history books, the 21st century will be called the century of blockchain technology, because in recent years, blockchain development has been gaining new momentum. But why is everyone so interested in this technology and what benefits does it bring?
Decentralization Information is distributed throughout the network, there is no "master" server, which is the main advantage of blockchain technology. You cannot harm the entire system by disabling only a couple of devices, the blockchain will stop working only if you remove all devices from the network. Since there is no "Main" and "Secondary" server/computer, it becomes impossible to establish control over the system and data. Therefore, blockchain cannot be controlled by states or private companies.

Safety Blockchain uses cryptographic encryption protocols, so data is securely protected in distributed registries. Messengers using blockchain technologies cannot be hacked, as they use end-to-end encryption (only the sender and addressee can read the message). Blockchain also helps in many cases to remain anonymous.

Wide scope Blockchain cannot be faked, so it can be a great substitute for a digital signature. Blockchain is called a "trustless system": there are no risks associated with trusting an intermediary organization, since an intermediary is not needed.

Transaction processing speed The transfer of data in the blockchain system is instantaneous; this has become a key factor in the popularity of blockchain development in the field of finance. Cryptocurrencies in one blockchain system can be transferred instantly and absolutely securely, so the blockchain is seriously used where the speed and reliability of information transfer is important (for example, in banking or when concluding contracts). Blockchain development has been actively evolving in recent years and this technology is finding new applications in various business areas.
Why Should Blockchain be Implemented in Business?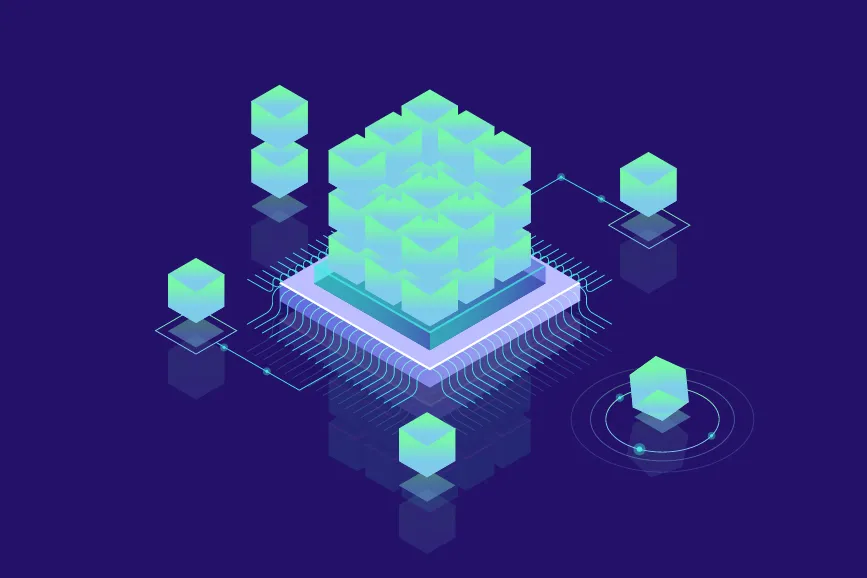 There may be several reasons for this. In addition to financial transactions, using the blockchain, you can protect information, sign documents and maintain confidentiality when necessary. Blockchain technology can also be monetized, let's not forget about NFTs. Although NFT has gained a controversial reputation lately due to the speculations of greedy companies, this technology is very useful!
Blockchain technology is not only a cryptocurrency! With the help of the blockchain, you can establish the authenticity of the goods (NFT), track the entire supply chain of the goods, a highly secure network from hacking and transparent, secure financial transactions. Blockchain development allows you to optimize business processes, making them faster, more secure and more efficient.
However, blockchain technology is relatively new, so there may be mistakes when implementing blockchain into your enterprise ecosystem. Also, it may not always be beneficial. It all depends on the goal you need to achieve. Contact Owlab for advice, it's free!
How to Implement Blockchain Technology in Your Business?
The integration of blockchain technology into your business takes place in stages, let's look at the key steps!
First step: Why do you need a blockchain?
To begin with, you should decide what blockchain technology will be used for and what tasks to solve in your business. This will help determine the next steps and set a specific goal.
You can launch several MVPs, test them and understand what exactly will be the most cost-effective solution for you. Invest small, test, and only then move on to bigger actions.
Already at this stage, you can contact Owlab for advice, as our company has extensive experience in blockchain development.
Second step: Choosing a blockchain platform
The platform you choose should have all the necessary tools for your business, because often the success of your future project depends on the choice of a blockchain platform.
For 2022, the most popular blockchain platforms are:
Ethereum (ETH) A stable coin on a par with BTC, which has an average transaction fee, while being the second most popular cryptocurrency in the world. Many projects have been implemented on the basis of Ethereum, it is mainly used for the development of smart contracts and decentralized applications.

Solana (SOL) Launched in 2020, this altcoin solved Ethereum's relatively high fee problem. Like Ethereum, Solana was created as a first-class platform for decentralized finance - DeFi, excluding financial intermediaries such as banks, brokers and centralized exchanges. SOL is also famous for its fast transactions.

Binance Coin (BNB) BNB is one of the three strongest crypto coins. One of the most attractive advantages of this platform is the all-in-one system. BNB has a huge toolkit, which is why it is one of the most convenient crypto platforms for startups.
There are many more blockchain platforms, we have listed only 3 of the popular ones. If it's hard for you to choose, you can always contact Owlab specialists! We will find the best solution for your business.
After choosing a platform, PoC (Proof of Concept) must occur. In simple words, Owlab specialists check the viability of an idea without wasting your budget.
Third step: Blockchain development
The most important part of blockchain development is the implementation of smart contracts that allow transactions to be made without the participation of third parties. To do this, developers must provide a smart contract with a certain set of rules that can take into account various factors.
During development and at subsequent stages, the software is constantly tested. All functionality is tested, the work of smart contracts, UX/UI and how convenient it is for your staff to use the developed solutions.
Fourth step: Launch
To launch a blockchain, you just need to create the first block. But, it must include all the characteristics of the chain. That is, in fact, at this stage, the foundation of the entire project is being laid.
How to Choose a Blockchain Development Company?
Blockchain development is not an easy task, in which you really should rely on the experience of professionals. Owlab has been in blockchain development for almost 10 years, and during this time our team has implemented dozens of successful startups and 5 large projects, which you can find here.
Owlab practices flexible methodologies such as SCRUM, so if something needs to be changed in the middle of development, we can easily adapt to new changes.
We are focused on results, because your success is our portfolio. Write to us and we will help you realize your most daring ideas. We hope this article was helpful, good luck!