Instagram's attempt to morph into TikTok has cost the company millions of dollars, countless updates, and a whole bunch of integrations with influencers. However, their new product Reels, which was supposed to become a competitor to TikTok, still hasn't caught up with the Chinese social network and is also rapidly losing audience engagement.
YouTube Shorts and Instagram Reels give back and cause a very negative reaction from users. Why is that? There are actually several reasons, but first let's talk about the numbers.
Why Instagram Reels Not Working?
The Walls Street Journal published an internal document from Meta, the owner of Instagram. This document shed light on the situation with Instagram Reels. TikTok user engagement is at nearly 198 million hours per day, and that number is on the rise. Reels don't even have a tenth of those numbers. User engagement is only 17.8 million hours per day, and in the last 4 weeks, user engagement has dropped by 13.6%. So what caused Instagram Reels to fail?
The Main Reason Why Reels Failed
Secondary. Reels is an attempt to compete with TikTok, but this attempt is not only too expensive for Meta, but also the content is not original. Most of the videos uploaded to Meta's social network are not original content and were created using third-party tools. 70% of the videos are re-uploaded videos from TikTok (marked with a watermark), which does not benefit Meta in any way.
Instagram is already begging to stop reposting TikTok on Reels. Reposting harms Reels so badly that Meta has explicitly stated that it will downvote such content from recommendations. This is done in order to motivate people to make original content for Instagram & Facebook, 1 billion dollars has been allocated for this purpose, of which 120 million have already been given to content makers.
Meta spokeswoman Devi Narasimhan says the problem is not as serious as it seems. The report's information on Reels vs. TikToks is out-of-date, not global enough, and reflects only a short-term state of affairs.
"We still have work to do, but creators and businesses are seeing promising results, and our monetization growth is faster than we expected as more people are watching, creating and connecting through Reels than ever before." - Devi Narasimhan
Instagram Users Didn't Appreciate the Attempt to Mimic TikTok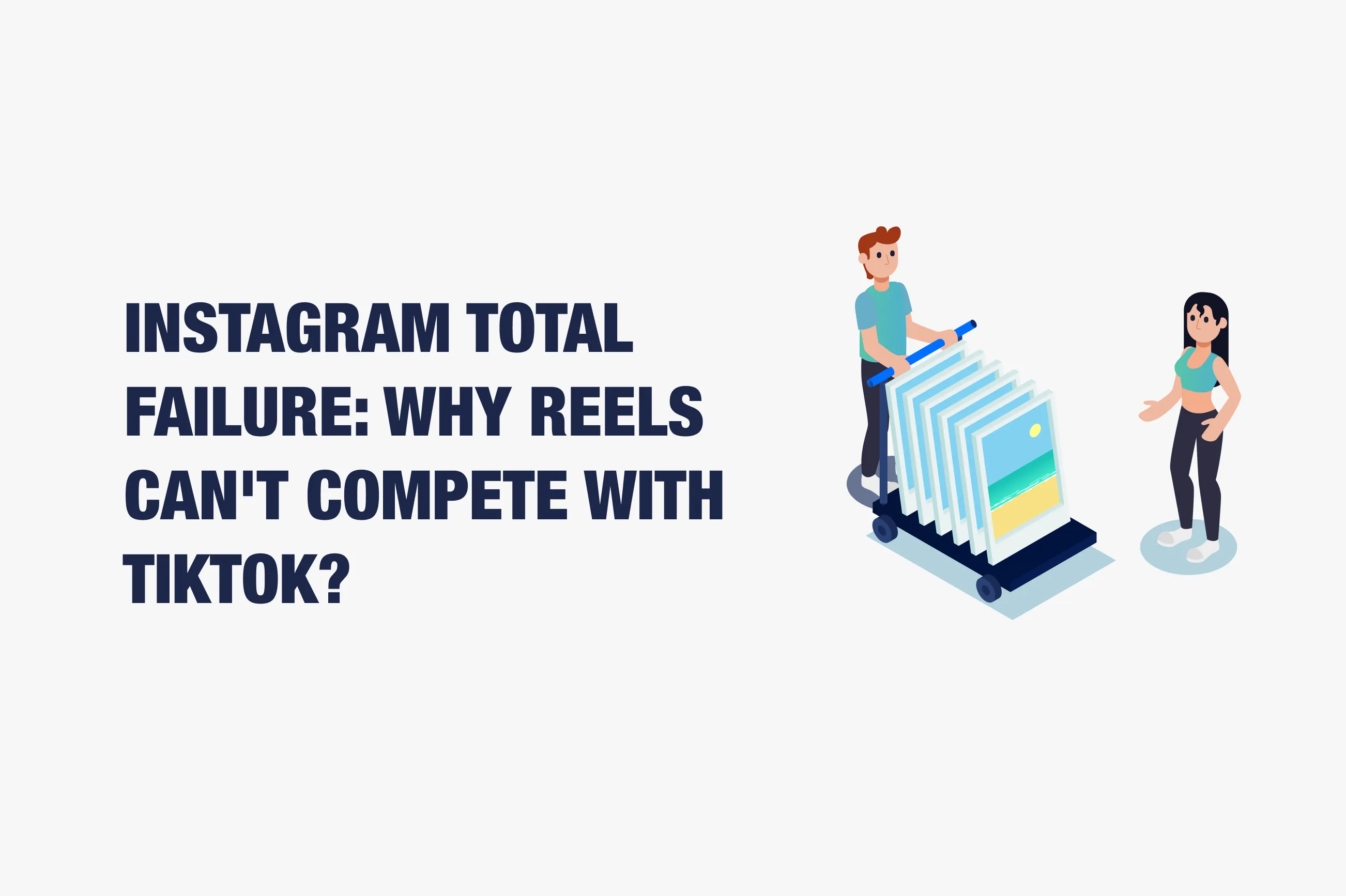 As Meta increasingly turns Instagram into TikTok, users are outraged. In July, Kylie Jenner and Kim Kardashian reposted a viral Instagram post asking the platform to "stop trying to be TikTok."
It was also supported by millions of people, which forced the platform to react and reverse some of the proposed changes. The percentage of Instagram users who believe the company "cares about them" has fallen sharply in recent years, from 70% in 2019 to around 20% earlier this summer. Whether users like it or not, Meta will continue to mimic TikTok, and users will see more and more recommended content from the accounts they follow.
Why is Everyone Trying to Copy TikTok?
TikTok is not the first to implement the short video model. This platform has a European competitor in the form of Likee and a competitor in the Asian market - Kwai. TikTok alternatives also have a huge set of masks and tools for content creator bloggers. However, despite the huge competition, TikTok is still the leader.
The success of the Chinese platform forces other large corporations to integrate this business model into their products, but this often causes at least disapproval among ordinary users, and sometimes even aggression. Media giants are trying to impose their "unique" and "innovative" vision of content on users. Reels can't compete with TikTok, moreover, Reels hurt Instagram and cause a lot of negative reactions. But whether you like it or not, they don't care, because despite all the backlash, the reality is that people still watch these short videos.