What is the concept of "Play to Earn"
Often, in the user agreements of various projects, the player doesn't even receive ownership of his account, which excludes the possibility of selling/buying any in-game valuables. Some games have implemented a marketplace that allows players to exchange in-game items for in-game currency, however these transactions remain part of a closed system. Some platforms have a full-fledged marketplace (for example, Steam) where you can sell in-game values, but you cannot withdraw money from these platforms. This contributed to the formation of a shadow market, where players could sell items through third-party resources for "real" currency.
The concept of Play to Earn, on the contrary, made the market open and allowed users to safely trade in-game values and exchange them for the cryptocurrency on which the game is based. Let's imagine that a player has received some rare item in the game and now wants to sell it on the marketplace. It's simple, the item goes to the marketplace, the buyer makes a purchase, the transaction is processed through the blockchain, the seller receives money for the item sold = profit. However, what if the external qualities or characteristics of the item were changed earlier? For example, a player enchanted a sword or dyed a piece of clothing? In these cases, NFT comes into play.
Why is NFT needed in Games?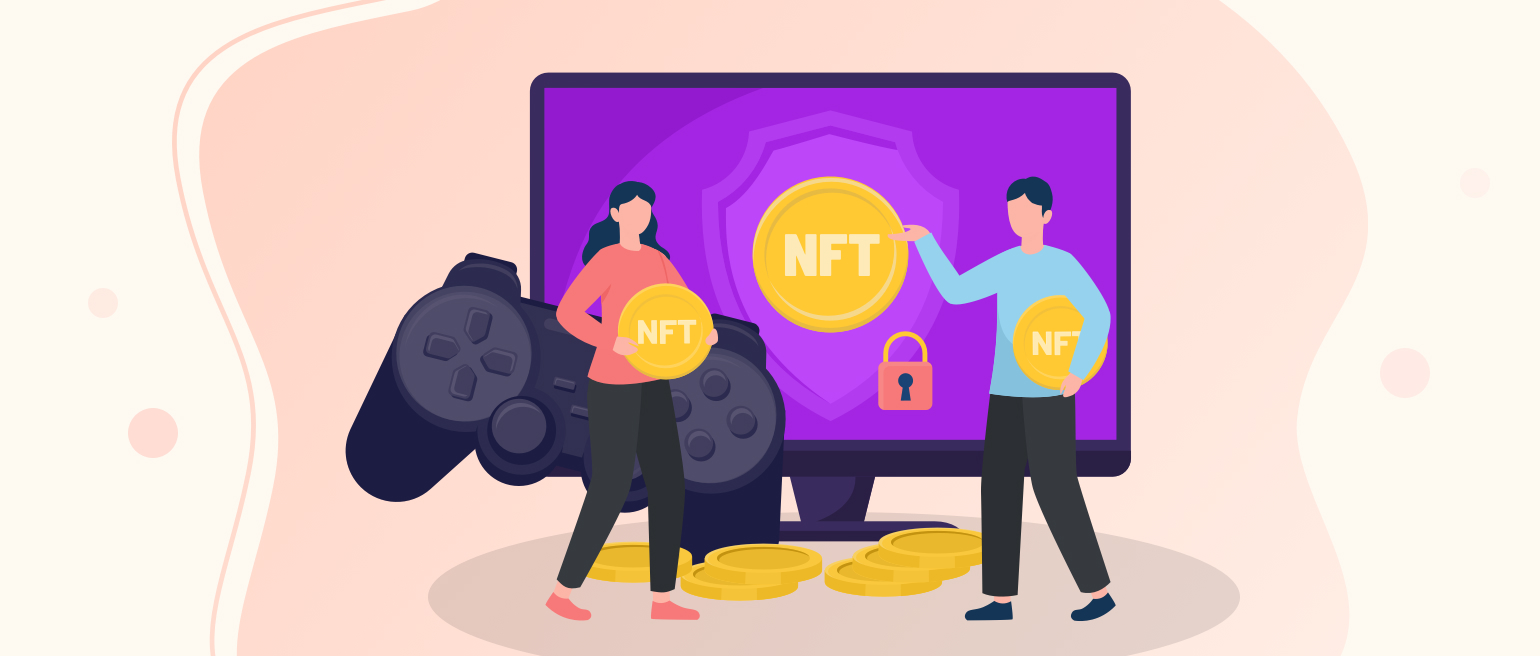 NFT (non-fungible token) allows you to assign a unique label to any item, a unique digital footprint, to put it simply. This makes it possible to track the history of each item individually, any changes to it and the change of owners, which makes each item unique. There can be only one owner of NFT, at the same time NFT is proof of ownership of this unique item. All modern Play to Earn games use NFT and blockchain technologies so that users can monetize their in-game values and currency.
The role of Blockchain Development in the Play to Earn model
As you already know, the core mechanics of making money on projects with the Play to Earn model is cryptocurrency and NFT, which means that blockchain development has a key role in creating Play to Earn projects. Developers need to consider many factors in order to secure their project from whales and currency speculation in the market. Speculators work together to manipulate the market, so game devs must resort to custom solution development and stop attempts to manipulate the currency. A professional approach to blockchain development can not only stop speculation, but also prevent such an opportunity for whales at all.
Examples of the use of Blockchain Technologies in Games
To date, there are already several successful projects that actively use blockchain development and blockchain technology at their core. For example, let's take the inherently simple game Bomb Crypto. Players buy BCOIN (cryptocurrency on which the game's economy is based) and use BCOIN to buy characters (NFTs) that walk around the map and collect resources. Characters can be bought on the marketplace or you can try your luck and try to open a lootbox, because characters are distinguished by different characteristics, appearance and rarity. The idea itself is very simple, it is unlikely that players are fascinated by the gameplay of such games, since most of the actions in the game are automatic. It follows from this that gamers play such projects not because they are fascinated by the gameplay, but in order to earn money.
Why are players negative about the introduction of NFT in games?
In 2021, there were several major scandals due to the attempt to introduce NFT into games. For example, after the announcement by GSC Game World (the developers of S.T.A.L.K.E.R 2) about the introduction of NFT, the players rebelled, as they regarded it as an attempt to get more money from fans. Large corporations risk their reputation in an attempt to implement NFTs in their projects. In fact, developers under the guise of NFTs want to sell small DLCs for their games, which looks like another attempt to lure more money from the players.
What benefits can NFTs bring?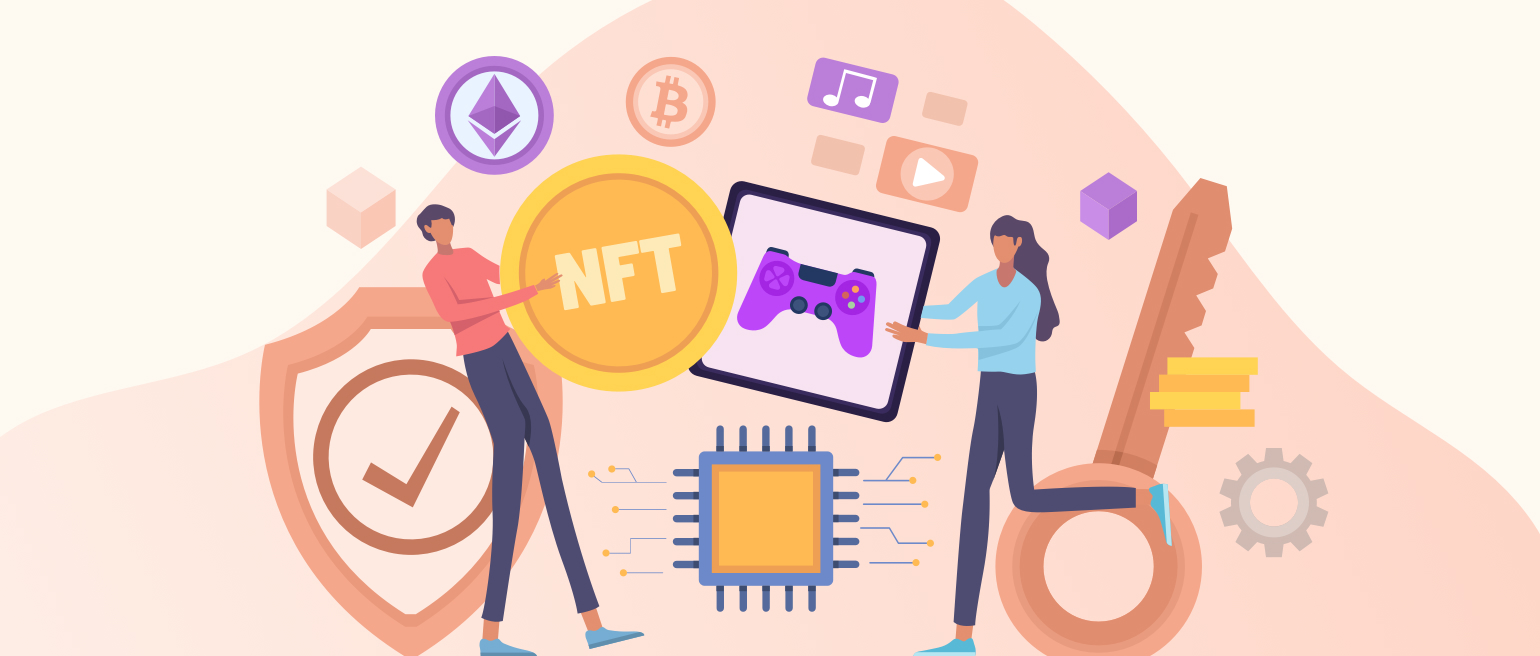 Despite the general hype and different opinions, the NFT will allow players to openly trade and earn while spending time in games. This is not an obligation, this is just a new option that will become available to gamers. Blockchain development will solve the problem of the shadow market and make it possible to monetize in-game values, this is not so bad, right? However, when they try to implement NFT in projects that can clearly do without this technology, it's a bit strange. One useful use case for NFTs in the future could be to "carry" items between games. For example, a purchased weapon skin in a conditional Rainbow Six can also be used in Watch Dogs, and a character skin purchased in Watch Dogs can be used in The Division. These features look like a Metaverse, don't you think?
What you need to create a Play To Earn game
To create a quality product, you will need a development company that has previously had experience in blockchain development. It is also worth deciding on which blockchain platform this game will be. Think over the main game mechanics and monetization mechanics, launch your own cryptocurrency and assign NFTs to in-game items. It is very important to focus on interesting gameplay, because in the term "Play to Earn" the word "Play" has a key role. So what does it take to develop your own blockchain game? You need:
Blockchain Development Company with experience in creating cryptocurrencies, NFTs and marketplaces.

Mobile Development Company/Web Development Company - depending on what platform your future game will be on.

UX & UI designers - the interface of your game should be user-friendly.

Game Designer - a specialist responsible for developing the rules and content of the gameplay of the game being created.

Artists/3D artists - you need to tie the NFT to something, right?
You can also look for investors on Kickstarter or other crowdfunding platforms, it's all up to you!
Blockchain development is becoming more and more popular every day. If you have ideas for a startup, Owlab will help you find high-tech custom solutions in blockchain development.