Blockchain remains a popular field for investment, however, many crypto exchanges cannot boast of convenience and customer focus. Many users face the inconvenience of buying or selling cryptocurrencies every day.
It is possible to make cryptocurrency trading really convenient with the help of crypto trading bot development. The task of such a bot is to simplify complex operations as much as possible and reduce the human factor. You need crypto exchange automation, and we will prove it to you!
How Automation Impacts Business - Crypto Trading Bot
Cryptocurrency transactions number in the millions daily, so crypto exchange platform operators can hardly cope with such a load. The development of a crypto exchange bot is the best solution that will allow you to process thousands of transactions at the same time, reducing the risk of errors and improving the quality of your service. Simply put, automation of cryptocurrency trading processes allows your crypto exchange platform to process a large number of transactions more efficiently, which directly affects your profit.
A crypto exchange bot is a computer program for automating trading processes. Such software is able to analyze the market, make automatic operations (cryptocurrency trading) based on a huge amount of information. It is impossible to predict exactly where the chart will go, but it is possible to predict trends with a high probability. Such bots study the market and, based on the data received, can predict its behavior.
Thanks to crypto trading bots development, your platform can successfully compete with other platforms, bringing you profit for many years to come. But enough talk, here are the facts!
Why Do Crypto Exchange Platforms Need Bots?
Developing and integrating a crypto trading bot into your platform is a really great investment and here are a few reasons to do so:
95% reduction in processing time
The human factor is reduced by 90%
Trading becomes more convenient
Real-time market analysis
Calculation of risks and possible profit
Continuous trading
Order execution in real time
Crypto trading bot has a few more key benefits! Since, in addition to convenience for your employees and traders, this tool provides:
Reduced workload for your employees
Increasing the security level of your crypto exchange
Increases user confidence
Systematic approach to transactions
Transparency
Also, the development and integration of an AI chat bot paired with a crypto trading bot will provide your site with a very high autonomy. Automation of business processes not only saves you money, but also allows you to get more profit. Owlab Group will help your business to be at the forefront of crypto trading!
Crypto Trading Bot Development Process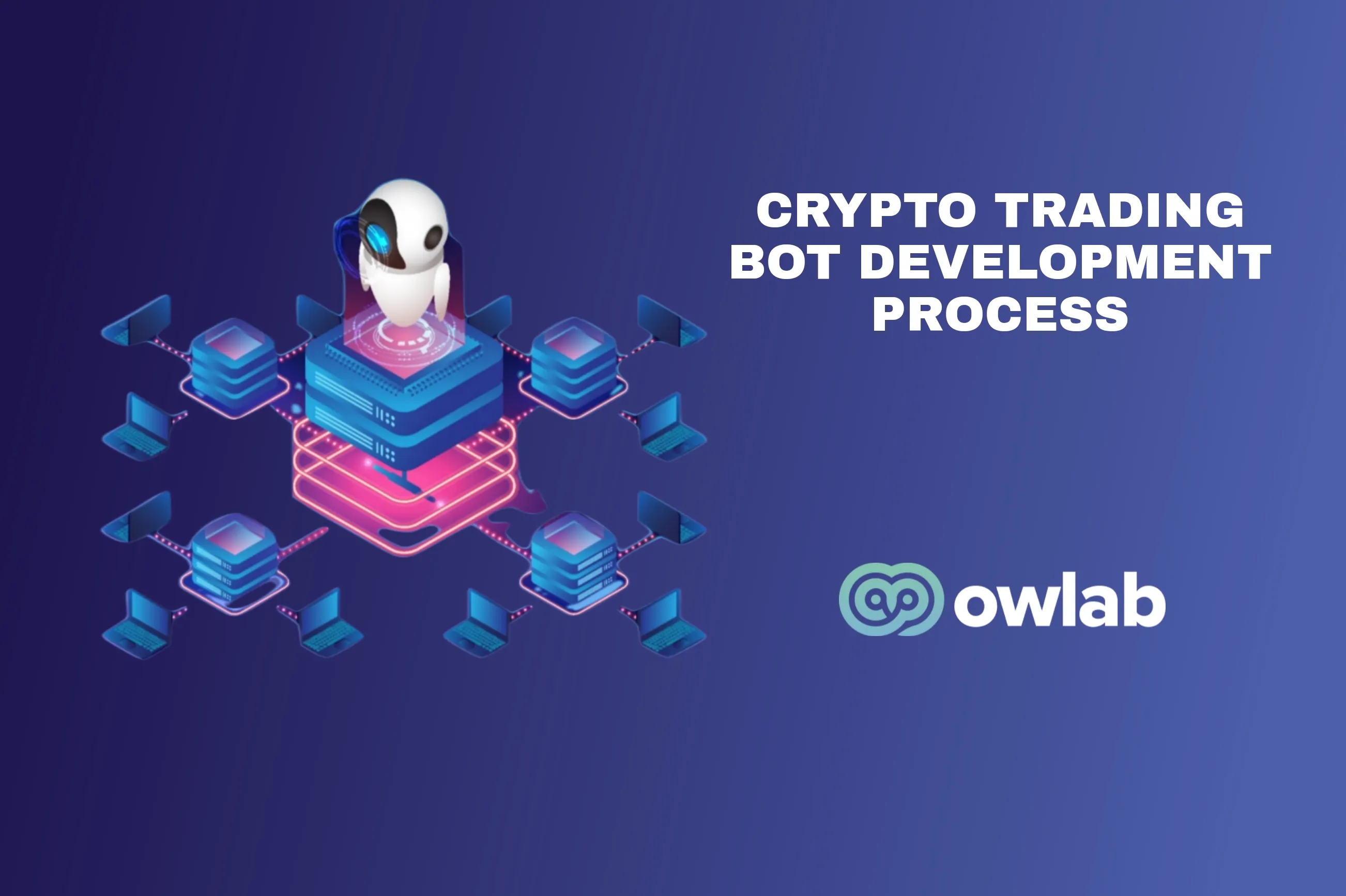 To make it easier for you to understand where to start and what stages the development process goes through.

Step 1: Gather Information.
It is very important to understand what functions the future bot should perform, which is why we draw up requirements and discuss the key points of future development.
Step 2: Planning.
We draw up a technical task, a kind of roadmap for the project. All ideas are tested for relevance and the complexity and time needed to develop are evaluated.
Step 3: Implementation.
At this stage, UX / UI design is developed from the layout. After the design is approved, Front-end & Back-end developers are involved in the work.
Step 4: Development and Testing.
Bot testing is carried out in parallel with development, thus eliminating the risk of any bugs at launch, which is very important for e-commerce products.
Step 5: Integration and Deployment.
Your bot seamlessly integrates into your business, having passed all the necessary verification steps before that. Once deployed, the Owlab Group provides ongoing support for the product.
Why Owlab Group For Crypto Trading Bot Solutions?
Owlab Group is a blockchain development company that has been providing high-tech custom solutions for e-commerce business for over 10 years. Actions speak louder than words, so you can check out our blockchain case studies or learn more about the services we provide in the field of blockchain development.
Cryptocurrency Bot Development Services We Provide:
Bot development and integration with any crypto exchange
Our blockchain development company will quickly and efficiently integrate an automated solution to your platform.

Development of smart algorithms
Owlab Group will develop unique algorithms for your crypto exchange that will automate trading processes and improve trading strategies.

Expanding the capabilities of a crypto exchanger
Staking, trading, deep analytics and/ statistics collection - all this can be done better than your competitors. Be ahead with Owlab Group!
Blockchain is a unique technology that once changed the world, and we are ready to change the approach to this business. Write to us to find out how much it costs to develop your own crypto trading bot and get a free consultation.