For several years now, IT forums have been discussing the loss of relevance of site content management systems - CMS. Today, many more technical and interesting alternatives have appeared, and the development of a site not with the help of a constructor has a positive effect on the image of a business.
Yes, at one time CMS itself pushed aside the usual static sites written on the basis of HTML and CSS. It allowed the creation of dynamic platforms with extensive functionality. Server-side languages ​​were also used to implement and support them. But with many advantages, such sites have their drawbacks, such as poor performance and data security problems.
Both static and dynamic sites are not going anywhere in the coming decades anyway. If only because about half of the total number of websites created with the help of popular CMS, such as Wix or WordPress. In this article, we will answer the question "Is WordPress still relevant 2022?" in detail, as well as find out if WordPress can be used for commercial purposes.
A Few Thoughts About WordPress
WordPress has been one of the most in-demand content management systems for 19 years now. It is easy to manage, functional and allows you to create convenient platforms for various business areas. But at first it was a regular platform for blogging. Absolutely any user will be able to quickly understand the features of maintaining sites on WP, since today there is a huge amount of materials to facilitate this path.
According to research, today about 65.2% of all working sites are created using the WordPress CMS, which is 43.1% of all websites on the World Wide Web. Interestingly, even the websites of the White House and the New York Times are implemented on WP.
However, web development does not stand still, new tools are emerging that, in terms of efficiency, can replace the familiar CMS. In a simple comparison, a cart is much easier to build than a car, but the car will travel farther and faster, which is more efficient in the long run.
Major Problems and Disadvantages of WordPress
We can say that WordPress has achieved its popularity due to the fact that it is easy to use and absolutely free, therefore it is ideal for starting business projects on a small budget. So, for implementation, it is enough to open the official website and follow the prescribed instructions.
But! WP does not have the functionality required to sell services. The platform created on it will not be able to provide customers with similar opportunities that are available on regular websites. The same is true for the security of information and the constant updating of this CMS. At the same time, if you do not update all components on time, there is a high risk of even greater vulnerability of the site to intruders.
Relevance of WordPress in 2022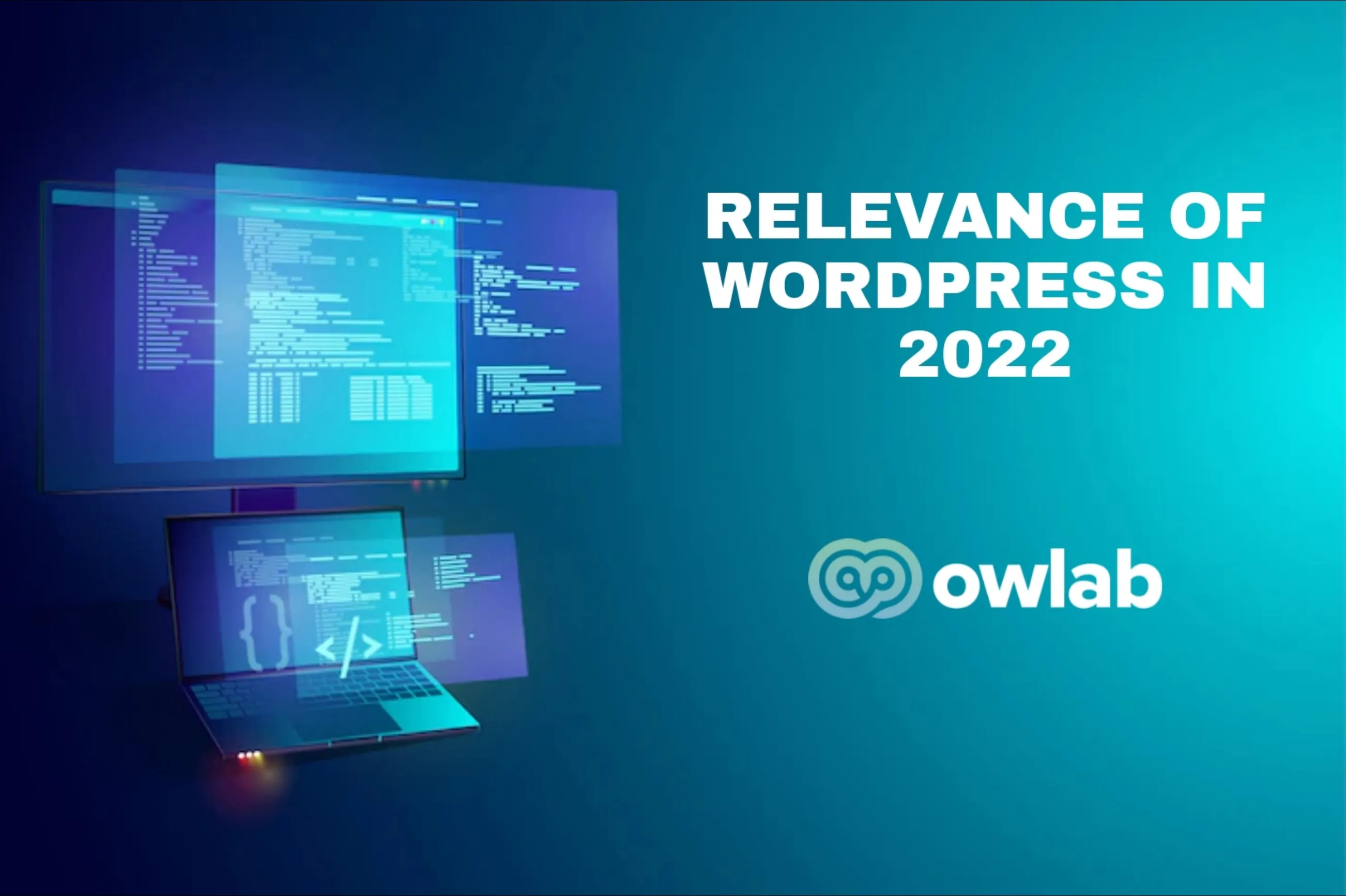 How many times have you heard that WP is perfect for creating a landing page or a simple business page to get started? Everyone will tell you that WordPress is the best solution for your new business website because everyone uses it. While this might have been good advice a few years ago, there's a very high chance that WordPress won't be right for your business website in 2022.
But in the long term, professional web development is indispensable. If your company is actively developing, it is better for you to switch from a CMS to a more secure solution as soon as possible. There are several reasons for this. One of the reasons is the availability of more convenient alternatives for no-code website development. The same Wix or Webflow are more convenient, but also not without drawbacks. You can check out our WP vs Wix comparison in this article.
Is CMS Better Than HTML?
Do you want to build a commercial website but confused between CMS vs HTML? Well, our experience suggests that for most cases, CMS are better suited, because they are easy to use and much more SEO friendly. However, HTML also has undeniable advantages.
Websites developed in HTML, CSS give you unlimited customization options. You can implement literally any functionality and any tools that your business needs in them. HTML websites have a higher degree of security, which is key if your field of activity is related to finance and trade.
Can I switch to HTML or vice versa, from HTML to CSS? Can I switch to another CMS? The answer is yes, you can. But this is not an easy task, which is difficult to cope with. In any case, in modern realities and possibilities of web development, it is possible to make a smooth transfer of your site. Owlab is a web development company that can develop a reliable website for you with a complete transfer of all the necessary information.
What are the Risks of Migrating a Website From One CMS to Another?
The main risk associated with the transfer is the drawdown of the web resource by position. Some important pages may even fall out of indexing due to the error of specialists or the features of the new CMS. The thing is that the age of the site greatly affects the ranking: the younger the resource, the more difficult it is for it to take high positions in the search results (most often due to low link mass).
Here are the top SEO mistakes you can avoid when moving:
Redirects not to all important pages;
Multiple redirects;
Content loss;
The appearance of duplicates;
Incorrect indexing.
In addition, the new CMS is always a change in the interface and page design, which is very rarely liked by regular visitors who have gotten used to the old design and functionality. Nobody likes change, so a drop in attendance in the first days after the transfer is almost impossible to avoid. Your task is to minimize losses by making user adaptation to the updated site as comfortable as possible.
It is impossible to avoid all the problems associated with the transfer, but you can always turn to specialists who minimize all the risks for your business! If you need a web development company that can provide you with a smooth transition from one platform to another - write to us in the contact form below this article, and we will contact you to solve your problem!