When Sony introduced their new PS5 Dualsense Controller with Haptic Feedback, it turned gamers' heads. Now users have the opportunity to tactilely feel even the weather conditions in games, such as raindrops. The recoil of the weapon has become more tangible and the explosions, combined with the built-in speakers and microphones, are simply something unreal. If you have ever played Spider-Man using the Dualsense Controller, you can probably agree with me that the sensations are simply indescribable.
We have already talked about what haptic feedback is, about VR gloves with a haptic feedback function, and even about a whole suit with this function. Thanks to tactile technologies, VR has become even more realistic and talk about the Metaverse no longer seems groundless. You can check out our article about haptic feedback in VR: What is Haptic Feedback, and why is it important?
But in this article, we will cover the topic of haptic feedback in mobile devices and applications, and also talk in detail about:
What is haptic feedback on smartphones
Haptic feedback examples
Why you should implement it in your application
Definition of Haptic Feedback
Tactile technology, also known as haptic feedback, is a technology that allows a program through a special device to interact with the user through vibration, movement, or other physical / tactile effects provided by the device. If we are talking about mobile app development, this is a familiar vibration to all of us, but the devil is in the details.
Most mobile devices have a built-in tactile system. These are standard patterns that designers and developers can use to enhance the experience. You'll also see examples used in other smart devices: in-car infotainment systems, tablets, smartwatches, fitness bands, and VR gloves. But let's remember: the purpose of using tactile sensations is to convey useful information, namely when:
Something went wrong
Something happened or didn't happen
Get the user's attention ("Hi! Look at this.")
In other words, tactile feedback is physical metaphors, and for these metaphors to work correctly, you need to know the patterns of human behavior. The correct use of vibration in a smartphone is a science, because with the right intensity, amplitude and other parameters, you can create the right metaphor and significantly improve UX.
Examples of Haptic Feedback in Smartphones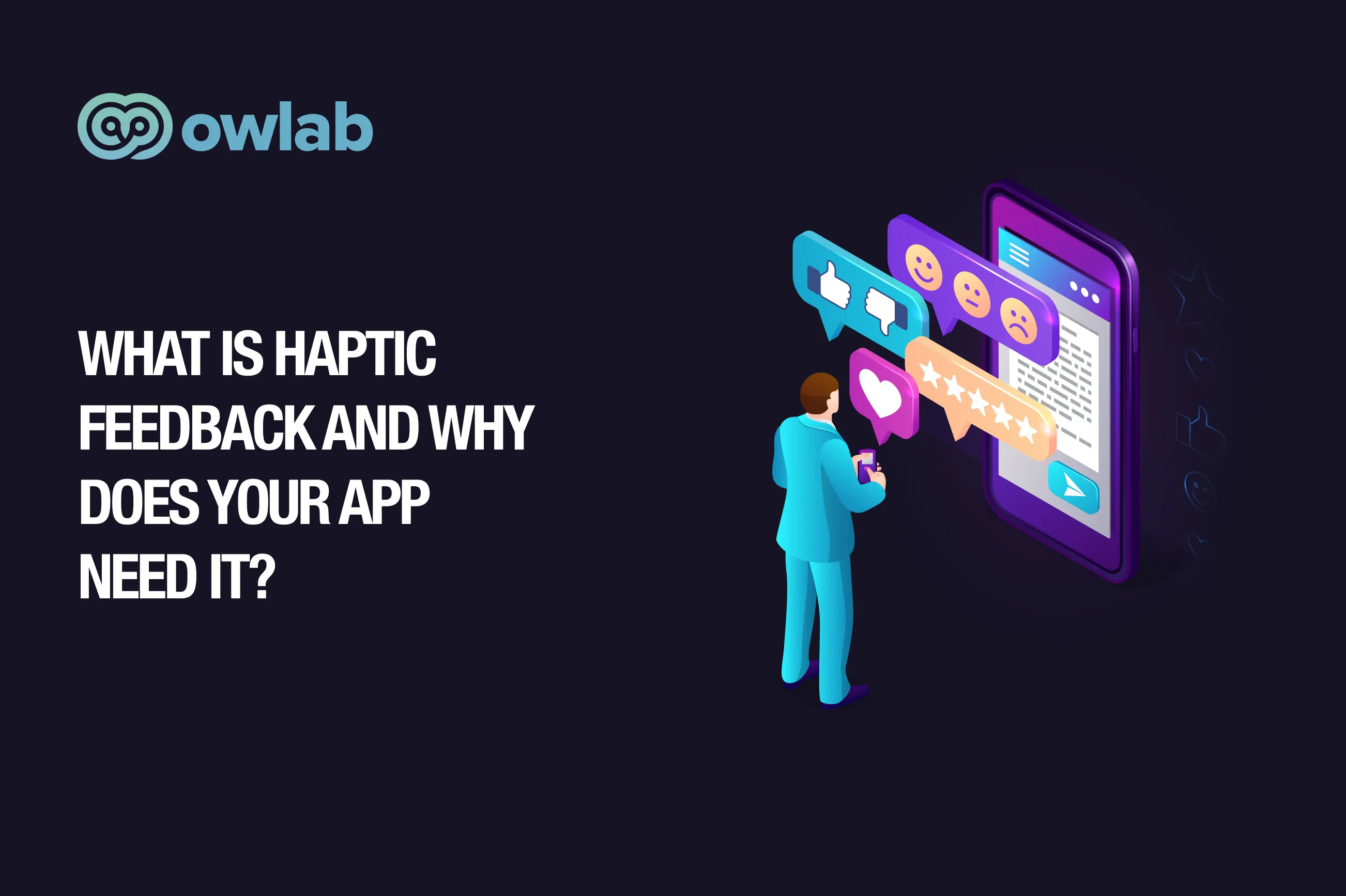 Mobile devices are evolving and more and more smartphone manufacturers are implementing Haptic UX into their devices. Haptic User Experience (Haptic UX) uses tactile feedback to convey timely and useful information to the user through touch. Here are some examples of using tactile sensations:
Successful payment on a mobile device causing a brief vibration.
Error status when entering an incorrect password.
A special gesture that unlocks the function.
Vibrations in mobile games and applications.
Vibrations in a smartphone can be used in a very diverse way. For example "Obimy App" is the world's first "senseger". This application allows users to send each other virtual hugs, kisses and other emotions through vibrations on their smartphone despite long distances. This application has gained great success and is even recommended by psychologists.
Is Haptic Feedback Important in Apps?
Yes, more like! Haptic feedback technologies are actively developing and this is already something more than just a trend. For example, Apple is constantly upgrading the Taptic Engine in its smartphones to add new features and improve the user experience. Vibration has become more natural and instantaneous, which allows you to make the user experience more enjoyable. Haptic Feedback on iPhone has become an indicator of quality, and many technology manufacturers are adopting this trend.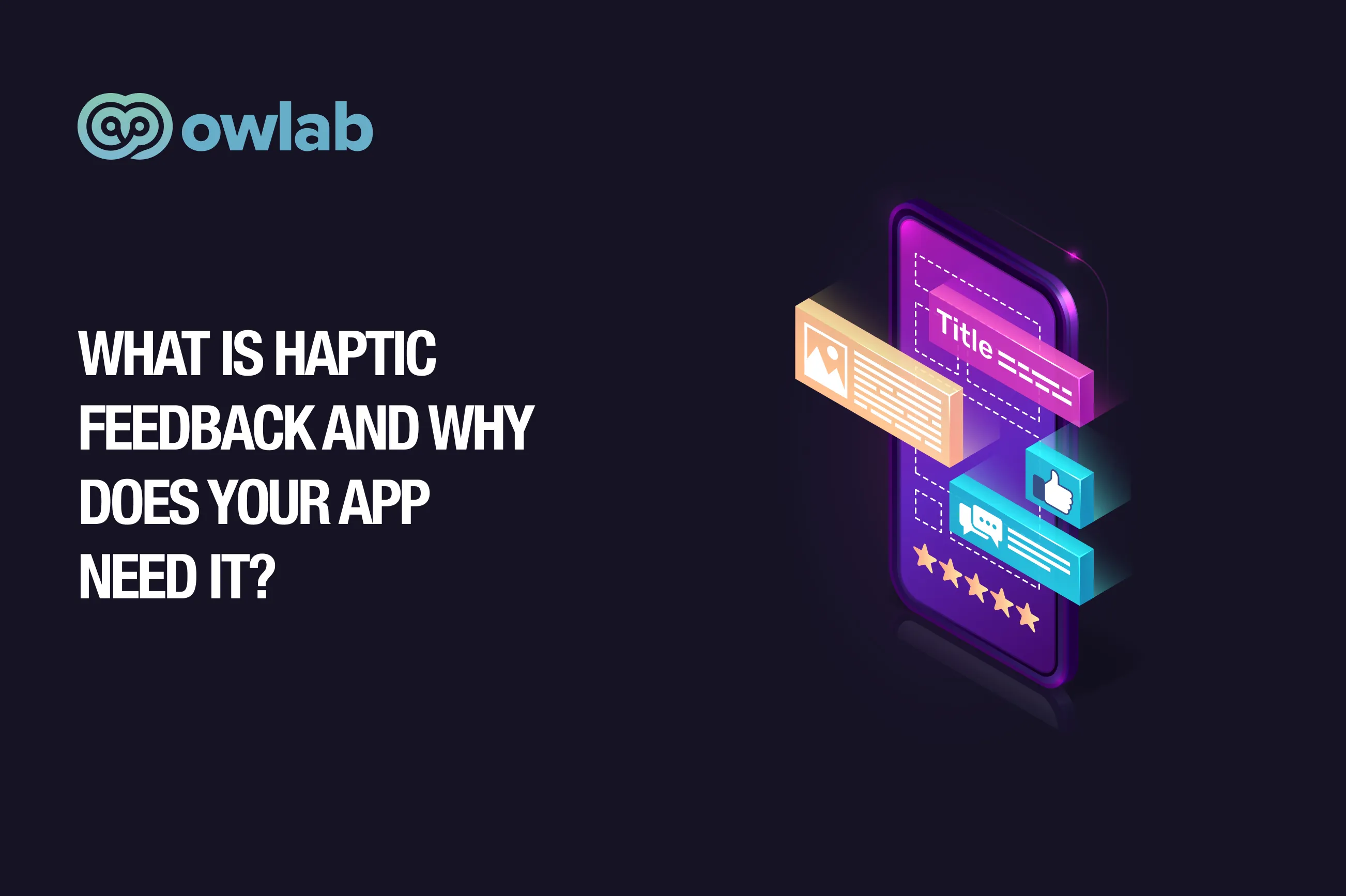 Another of the haptic feedback examples is the vibration feedback when you press the smartphone keyboard. The fact is that modern phones are not burdened with a physical keyboard, so the vibration when typing a message on your smartphone serves as an indicator that you have pressed the button. Haptic Touch on the iPhone is a very useful technology that has become a hallmark of premium smartphones. The vibration motor on Apple smartphones differs from competitors in terms of quality and functionality. The user even has the ability to create their own vibration, and this feature is currently exclusive to Apple devices.
But what are some examples of haptic feedback in apps? We won't talk about vibration in games, but such important things as vibration feedback "action success/error" play an important role in UX. A few more examples from our personal experience. Owlab is developing an application for Smart Locks "Spark Keys" , and we are actively adding various kinds of functions that interact with devices:
Shake to Open (user shakes the phone and the door opens)
Vibrating signal "door open"
Vibration "error/failure"
Separate vibration alert for notifications
Separate vibration signal when NFC is triggered
This variety of tactile feedback accustoms the user to certain patterns, and he no longer needs to look at the screen to get important information.
Conclusion
Now you are convinced that vibration on a smartphone is not just a convenient default feature, but an effective tool that allows you to improve the user experience. With a creative approach to the use of tactile technologies, you can make a really convenient user-friendly application.
The trend for the development of tactile technology has already been set. Perhaps in the future, smartphones will be equipped with even more advanced vibration motors that will give users a more vivid experience of games, multimedia and using their device.